Key points
¤ The Tread of Pioneers Museum is at 800 Oak St.
¤ The museum is open all year, from 10 a.m. to 5 p.m., Tuesday through Saturday.
¤ Admission is free to Routt County residents with an ID, museum members and kids ages 6 or younger.
¤ Otherwise, admission costs $5 for adults, $4 for seniors ages 62 and older and $1 for kids ages 6 to 12.
Photo Gallery
Museum ski exhibit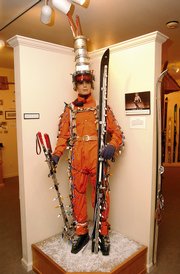 Steamboat Springs — Jon Banks has made some serious changes to his coat of many lights and colors since he began skiing with his father, Claudius, the original Lighted Man of the Winter Carnival.
His current 300-watt powered, heavily-modified Nomex racing suit evolved through hard-earned trial and error.
Yet, the original leather harness and rocket-launching cap that Claudius developed through his own years of night-lighting, from 1936 to 1978, still seems pretty futuristic.
A mannequin adorning the Banks' collection of donated parts from suits past greets visitors at the Tread of Pioneers Museum's History of Skiing exhibit.
If you're looking to absorb the full Winter Carnival flavor, Candice Lombardo believes the event's heritage is just as important as the live events in the street.
"It's important to come and learn about," Lombardo, the museum's executive director said about the carnival's history.
That history involves the oldest continuously operating ski area in the state as well as the oldest ski club and the oldest winter celebration in the West.
"Carl Howelsen is one of the main focuses of the exhibit," Lombardo said. "The Steamboat Springs Winter Sports Club, the Olympians, even the ski resort all really sprout from him."
Lombardo outlined how the History of Skiing gallery, which became a permanent exhibit in 2000, highlights not only the local history of Howelsen and the Winter Carnival, but also "traces the development of skiing in Steamboat Springs from essential winter transportation to the popular recreation sport of today."
The exhibit includes the evolution of the equipment and lift technology in addition to the story of the 10th Mountain Division, the founding of the Storm Mountain Ski Area and the ultimate product of locally-breed Olympic athletes.
You can even figure out how Steamboat's ski runs got their names, see Sherman Poppen's original Snurfer prototype or a learn a little factoid gem such as weight-testing the Silver Bullet Gondola in 1986 by hauling 763 kegs of Coors beer up the hill.