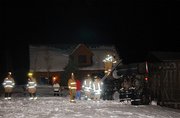 Steamboat Springs — The driver of a semitrailer was uninjured Thursday night after his rig tipped on its side and slid off the road near the Heritage Park neighborhood west of Steamboat Springs.
Colorado State Patrol Sgt. Chad Dunlap said Shedrick Boyd, 40, was driving westbound on U.S. Highway 40 at about 9:15 p.m. when he came around a curve too fast and crossed into the eastbound lane of traffic. His semitrailer tipped onto its side and slid through snow before stopping just short of hitting the fence of a Heritage Park home.
"He lost control and stopped just before that fence," Dunlap said.
Boyd was cited for improper mountain driving, Dunlap said. Boyd likely entered the curve between 55 and 60 mph, he said. The speed limit on that stretch of U.S. 40 before Steamboat II is 50 mph.
Boyd was wearing his seatbelt at the time of the accident, and he was not injured.
No other vehicles were involved in the accident, and no other damage was reported, Dunlap said.
Steamboat Springs police officers and Routt County Sheriff's Office deputies directed traffic on U.S. 40 until the accident scene was cleared at about 10 p.m.
Steamboat Springs Fire Res-cue crews also helped secure the scene.
Also Thursday, the patrol car driven by Trooper Rick Kaspar was struck by another vehicle at about 6:35 p.m. at Central Park Drive and Pine Grove Road.
Dunlap said Jillian Papel, 19, of Steamboat Springs ran into Kaspar's 2004 Crown Victoria after she ran a red light.
Papel was cited for disobeying a traffic control signal.
Kaspar was not injured in the accident, and his car sustained "moderate" damage, Dunlap said.
-To reach Alexis DeLaCruz, call 871-4234
or e-mail adelacruz@steamboatpilot.com