Finding a safe haven
Advocates trying to set up secure site for child visit transfers
Thursday, February 8, 2007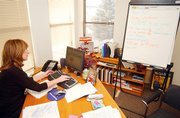 Imagine wanting to see your child, but worrying that your abusive ex-spouse will again become violent. Imagine having to go to a public place such as McDonald's, or the parking lot of the Steamboat Springs Police Department, to pick up your child from your ex-spouse because there is no better place for the transfer.
Some Northwest Colorado residents don't have to imagine. For as many as 52 families, such scenarios are very real.
But that could change. Advocates Against Battering and Abuse, a publicly funded local nonprofit organization, received approval from Routt County commissioners this week to apply for a $200,000 grant from the U.S. Department of Justice's Office of Violence Against Women. If awarded, the "Safe Haven" grant would implement the Yampa Valley Supervised Visitation and Safe Exchange Program, which would provide a secure location for custody-related meetings.
"Many times, it's a situation that can be volatile and needs to be supervised," County Commissioner Nancy Stahoviak said. "Right now, all of these situations are occurring in public places because we don't have something organized."
Advocates Executive Direc-tor Diane Moore said the safe exchange program is a collaborative project that also involves the city of Craig, Advocates - Crisis Support Services in Moffat County, Routt County Department of Human Services, Moffat County Department of Social Services, the 14th Judicial District Court System and law enforcement agencies from both counties.
A report prepared by the safe exchange program's consulting committee, which must apply for the grant by Tuesday, says the 14th Judicial District "has 523 court cases opened in one year with histories of domestic violence, sexual assault, child abuse, and stalking." By accounting for anomalies such as families involved in several cases, the report conservatively estimates that a safe exchange program would service 52 families annually in Northwest Colorado.
That number could grow when judges have confidence in available resources.
"It's our understanding that judges are often not requiring supervised visits due to a lack of resources, and because it's simply not safe," Moore said.
Routt County attorney Nancy Smith previously worked for 15 years as a "guardian ad litem," or an attorney representing the best interests of children, in the 14th Judicial District.
"I did tons of these visits and exchanges on my own, in places where I was terrified," Smith said Tuesday. "Often in private houses with unstable people."
The exchange program initially would establish two secure sites, one in Steamboat Springs and one in Craig. Bob White, director of Routt County's department of human services, said the Steamboat location temporarily would be in renovated space at the department's building on Sixth Street. The fully staffed site would feature two parking areas, two entrances, and two waiting rooms, along with a visitation room containing a two-way mirror and, potentially, cameras or sound monitors.
Moore said $200,000 would fund only the first two years of the program, but she plans to seek permanent funding.
"That will be one of my responsibilities from the beginning," she said.
If she does not receive the federal funds, Moore said, she will "continue to look for other funding - but the program might look different."
Two years ago, Advocates received a $120,000 grant from the federal Office of Violence Against Women to plan and develop a safe exchange program. That funding ends Aug. 31.
"This would really take us to the next step," Moore said of the larger, $200,000 grant.
To reach Mike Lawrence, call 871-4203
or e-mail mlawrence@steamboatpilot.com