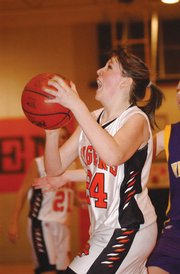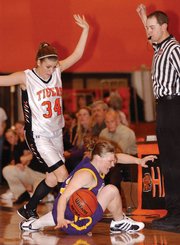 Hayden — It was the Hayden girls basketball team's last home game of the regular season. The Tigers handed out roses to parents before tipoff, but they could not complete the fitting finale by handing out a loss to the West Grand Mustangs.
West Grand turned on its shooting to come back and down Hayden, 56-52, in what Hayden coach Stephanie Davis called her team's "worst defensive ball game all season."
The game started with some sloppy play from the Tigers and some easy opportunities missed inside. West Grand went on 9-1 run with Hayden struggling to grab rebounds and unable to score a field goal until five minutes in.
Kylee Sweetser cut the West Grand lead to one with a 3-pointer to close the first quarter.
The Tigers rolled into the second quarter with a 6-2 run to take the lead, but consistent shooting and controlled possessions allowed West Grand to maintain a 28-24 lead heading into the half.
Then the Tigers turned on the pressure. Sweetser and Jacquelyn Denker forced steals in full court and Jessica Martin's sharp shooting helped Hayden tear open a 15-2 run and gain a healthy lead.
Hayden's Holli Salazar opened the fourth quarter with an inside bucket to extend the lead to 11.
But the Mustangs started cracking the press, finding the boards and hitting some shots.
"We inched our way back in," West Grand coach Sara Miller said. "They did a good job from the free-throw line, they fought hard, wanted it bad enough and just dug and dug and dug."
They started nailing their shots from the floor as well.
Hayden's Emily Whiteman fouled out with just four minutes to go and West Grand's Rose Hargadine hit a three to bring it to a two-point game. Anita O'Neill, who scored 11 of her team-leading 18 points in the fourth quarter, began finding quality looks in the paint to put West Grand up, 48-51.
Katy Koehler and Martin came up with clutch baskets to keep Hayden within a one-point reach. But in the final minute, when Hayden missed its key rebounds and scoring opportunities, West Grand grabbed its and O'Neill converted a foul shot and a field goal to seal the victory.
Sweetser lead Hayden with 13 points, followed by 12 from Whiteman, who also grabbed nine rebounds. Denker had seven rebounds and six steals.
"We came out with more energy in the third quarter," Davis said. "But as a whole, we came out flat and had a lot of missed set shots : It puts a lot on the line for Friday, I hope we can pick up the intensity."
Hayden (7-8, 3-4 in league) plays at 5:30 p.m., Friday at Grand Valley. The winner secures the fourth-place spot and the host site for the first round of the Class 2A District 5 tournament.
- To reach Dave Shively, call 871-4253
or e-mail dshively@steamboatpilot.com