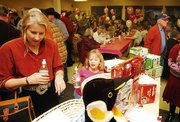 Steamboat Springs — Lexy Look, 11, had a simple message for the nearly 400 people who attended a fundraiser for her sister Tuesday night.
"Just pray for her," she said.
Molly Look, 3, is recovering from frostbite after spending about 30 minutes outside in subzero temperatures Jan. 17. She was wearing only a long-sleeved shirt and was found sitting in a snowbank by a passing motorist. Molly had left her home and began walking toward her grandparents' house nearby. Her parents didn't know she had left.
Look spent two weeks at Denver Children's Hospital and has lost several of her fingertips and toetips as a result of the frostbite.
Tuesday's fundraiser was organized by a group of mothers determined to raise as much money as possible for the Look family. Most of the funds will go toward medical costs because the family does not have health insurance.
Audrey Zwak, director of Christian Heritage School's preschool, said the Look family is doing well given the circumstances.
"They are an awesome family," she said. "They love each other very much. They're a team."
Zwak said Molly has visited Christian Heritage School a few times since returning home Jan. 29. Lexy and Kady Look, 8, attend the school.
"Molly sees her buddies and gets right back in the groove," she said.
Molly's father, Del Look, attended Tuesday's fundraiser. Mother Yvette Look did not attend.
Hundreds of family members, friends and community members gathered at Steamboat Springs Community Center to share in a spaghetti dinner, silent auction and live entertainment. A special card table was set up for children to design get well cards for Molly. A large wagon slowly was filled throughout the evening with stuffed animals, gift bags and cards. Event organizers were optimistic that the fundraiser generated more than $20,000 for the family.
"It's very humbling and overwhelming for the (Look) family," Zwak said. "(Del and Yvette) are just so touched. They feel really supported and loved."
Molly's older brother, Justin Baker, 19, said his family couldn't believe how supportive the community has been.
"It's such a blessing, that's what it is," he said. "Our family wants to thank everyone so much."
Baker called Molly "a trooper" and "very independent."
"She puts a smile on my face," he said. "She has such a kind heart for everyone."
Baker said his mother, Yvette, and Del Look are grateful.
"I think the word to describe them is 'hectic,'" he said. "There's a lot of emotion and a lot on their minds."
Lexy said her family has been praying for Molly's recovery and that the girls have spent a lot of time just playing together.
"(Tuesday) morning I put on some music, and Molly and I just danced around," she said. "She's going to be OK."
A second fundraiser for Molly is planned for 6:30 p.m. Feb. 23 at Olympian Hall. Tickets are $5.
- To reach Alexis DeLaCruz, call 871-4234
or e-mail adelacruz@steamboatpilot.com