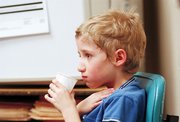 Steamboat Springs — Teachers at Christian Heritage School are feverishly trying to get their hands on one thing - Lysol.
"That's one thing teachers have been buzzing about - Lysol, Lysol, Lysol," said Keri Couchoud, director of development at the private Steamboat Springs school.
Mary Dierdorff, head nurse at Steamboat Medical Group, said the office has seen a large number of patients in recent weeks, most of them complaining about an upper respiratory illness complete with a cough and nasal congestion.
For some patients, the symptoms have turned into bronchitis. For most, it has been a nagging cold.
Winters have a tendency to bring out the worst in bacteria and viruses. Officials at Soda Creek and Strawberry Park elementary schools said attendance has been down in recent weeks because of illness.
Strawberry Park health aide Beth Stevens said she saw 36 children on Tuesday alone.
"We have a lot of sick kids right now," said Dot Haberlan, Routt County team leader for school health services. "The elementary kids are running about 40 to 50 absences a day with illness. This current wave of illness started maybe a week or a couple weeks ago. (Monday and Tuesday) we probably saw the most sick kids."
Haberlan said the most prevalent illnesses at Steamboat Springs School District schools are the same as those being seen at Christian Heritage School and all across town - upper respiratory viruses, strep throat, bronchitis and a stomach virus.
Stacy Magee, nurse for the Hayden School District, fought off a respiratory virus last week and was back at Hayden Valley Elementary School on Tuesday.
"Mostly what we are seeing is upper respiratory things like cold, cough, bronchitis," Magee said. "We've seen a few kids with vomiting, so like a stomach virus, too."
Haberlan said she understands it is difficult for parents who work to keep children home from school, but school isn't the best place for children to recover. In addition to spreading illnesses, sick children aren't benefiting from being in class.
"Sometimes we forget school is demanding for kids and it is stressful," Haberlan said. She provided some rules to follow when deciding how to handle a sick child.
"We'd like to ask parents to not send their students if they have thrown up the night before or have thrown up before coming to school," Haberlan said. "We would like them to be fever-free for 24 hours ideally."
Mid-winter illnesses are "par for the course" she added, and nothing the nurses have seen in Steamboat or Hayden is atypical for this time of year - except one thing.
The number of reported influenza cases is down, Dierdorff and Magee said. Magee wasn't sure if that was encouraging or meant that the typical winter bout of flu hasn't hit.
The stomach virus that many Routt County residents have had is not influenza.
"With the actual flu we see kids out for a week," Magee said.
To avoid spreading germs, parents and children should wash their hands frequently and cover their mouths with their arms when coughing because hands are the biggest culprit for spreading germs. Getting a good night's sleep also helps the immune system attack illness.