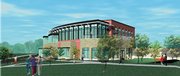 Steamboat Springs — The expansion of Bud Werner Memorial Library could get a final stamp of approval tonight.
The Steamboat Springs City Council is scheduled to take action on final plans for the 23,000-square-foot, $11.4 million library expansion that would more than triple the size of the current library at Lincoln Avenue and 13th Street. Construction of the expansion could begin as early as July 1, should the library's Board of Directors decide not to wait for completion of the new Steamboat Springs Community Center west of downtown.
The Community Center is adjacent to the library, on the site of the proposed expansion. Users of the center, particularly the Routt County Council on Aging, have for months expressed concerns that they could be temporarily without the center, which houses the Council on Aging's office, a community room and a kitchen used to prepare meals for senior citizens.
The library expansion has already received strong support from city planners.
At a meeting Jan. 25, the Steamboat Springs Planning Commission unanimously supported final plans detailing the layout, design, architecture and landscaping for the library expansion. But several commission members acknowledged future parking concerns at the heavily used site.
The library's parking lot, between the library and the river, has 35 spaces. Plans for the expansion include 52 spaces, in a redesigned lot at the same site. While city planning staff said the expanded library requires 73 spaces according to city codes, the Planning Commission voted to grant a variance and allow the fewer spaces.
"If we have more blacktop for parking, it's going to take away from the (expansion's) wonderful park atmosphere," commission member Dick Curtis said last month. "There's really no answer without a complete redesign."
Local voters approved the library expansion in Nov-
ember 2005.
Before her vote in support of final plans for the expansion, Planning Commission Chairwoman Kathi Meyer said the City Council must address parking issues in downtown Steamboat. Meyer has made similar statements before votes in support of mixed-use
developments on Lincoln Avenue.
The council is also scheduled tonight to review preliminary plans for Bear Claw III, a 10-building resort complex adjacent to the slopes of Steamboat Ski Area.