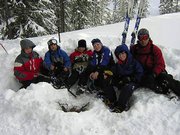 Steamboat Springs — No one wants to be stranded or lost in the backcountry, but accidents happen, and students at The Lowell Whiteman Primary School want to be prepared.
This week, students in fifth through eighth grades at the private Steamboat Springs school will spend extended periods of time in the nearby wilderness learning priceless lessons about how to survive if something goes awry.
"As a whole, our winter skills trips were created to provide students with useful tools in case of winter emergencies," said Mike Ruzicka, one of the Whiteman Primary teachers organizing this year's trips. "But many of these skills can also be used in any season and any climate."
For the 14th year, the Fetcher family cabins north of Hahn's Peak on the backside of Steamboat Lake will be used by the school.
The Whiteman Primary students will leave the comforts of home and head north equipped with avalanche shovels, survival kits and overnight packs, so they can cross country ski and snowshoe into the North Routt backcountry.
There, students will immerse themselves in the elements, learning lessons in avalanche safety, emergency shelter building, first aid and fire building.
Becoming confident in backcountry skills such as fire building, is a highlight for the trip, Ruzicka said, but it also could save lives because students learn how to use materials found in the woods and a single match.
"A mastery of some basic backcountry skills is so important when you grow up in a community like Steamboat Springs," said Whiteman Primary Head of School Nancy Spillane.
The students will learn skills this week through a series of progressions. They will start working in groups before moving to work with partners. The week concludes with mini solo sessions, a practice popular with Outward Bound or the National Outdoor Leadership School, nationally recognized programs.
Whiteman Primary parents Nora Parker and Doug Matthews will be accompanying the students on the trip. Parker, a local geographer, will provide expertise in orienteering and compass reading.
A member of Routt County Search and Rescue, Matthews will instruct students on how to safety navigate in the background, focusing on teaching students how to identify and combat hypothermia, be safe in case of an avalanche and learn how to read snow conditions.
But it won't be all work for the Whiteman Primary students. They children will be given the chance to ski and learn telemark skiing basics while in the backcountry.