Local man bids farewell to Navy
Capt. Jack Dysart's long service career spanned 40 years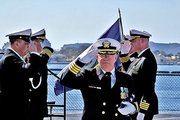 Steamboat Springs — Retirement was bittersweet for Jack Dysart.
After 40 years of being assigned various duties and promoted through the ranks, Dysart has finally said goodbye to his career in the Navy.
His retirement date officially is Feb. 14, but a formal ceremony was held Jan. 7 on the flight deck of the USS Midway in San Diego.
Dysart was born in San Diego, so he thought it was fitting to have his retirement ceremony on the Navy Pier across the bay from his birthplace. He now lives in Steamboat Springs.
"The day of the ceremony could not have been better - clear and sunny in San Diego," Dysart said. "I was a little nervous during the preparations, a little like planning a wedding and wanting all the people and key ingredients to come together in a manner that was both dignified and fun for the audience and participants."
No worries. The Logistics Task Force Pacific, which sent out the invitations, gave Capt. Jack L. Dysart, Supply Corps, United States Navy, a proper sendoff and presented him an American flag that once flew over the Capitol building in Washington, D.C.
"I'll probably fly it on special occasions like Fourth of July or Flag Day," Dysart said, adding that at other times it will remain neatly folded in a dresser.
And to think, Dysart once thought his career path would end with braces.
"One of the reasons I enlisted was my father's recommendation," Dysart said. "I didn't want to be a dentist, but I didn't know what I wanted to do. I actually, thought I wanted to be an orthodontist."
Dysart went from an undecided young man to a confident and secure Navy recruit, going from an airman recruit in Feb. of 1967 to a Petty Officer First Class - storekeeper by 1979.
"When I enlisted, I thought there was a fair chance I would apply for an officer position," Dysart said. "I did not expect to be a Captain."
But, in 2003, Dysart was promoted from Commander to Captain, a prestigious rank finally achieved 36 years after discovering Boot Camp was the pinnacle of a physical and mental challenge.
Dysart's Naval career took him around the globe but never to the frontlines during war.
After Sept. 11, when focus was squarely on the American military and its response to terrorism, Dysart was assigned to the U.S. Pacific Command in Camp Smith, Hawaii. He was mobilized to work in the Theater Logistics Operations Center supporting operations in countries surrounding the Pacific and Indian Oceans.
For the past three years, Dysart was with the U.S. Pacific Fleet Headquarters as Director of the Combined Exercise Support Group for exercise Talisman Saber, a position Dysart found "interesting" and "exciting."
"After 40 years, there were a lot of mixed emotions," Dysart said of retirement.
His retirement ceremony included family such as his wife Carole Milligan, and other family and friends. The retirement ceremony also included Navy officers, which is custom.
On Dysart's retirement program, a quote read, "It follows then as certain as that night succeeds the day, that without a decisive naval force we can do nothing definitive, and with it, everything honorable and glorious." It was a comment from President George Washington said Nov. 15, 1781.
It is a sentiment shared by Dysart, who said his Naval career, much like any career, was filled with highlights and lowlights, but it was worthwhile.
"The military is a way to help you fairly quickly figure out how to figure things out quickly," Dysart said.
- To reach Melinda Mawdsley call 871-4208
or e-mail mmawdsley@steamboatpilot.com