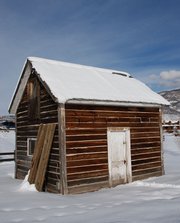 Could this be cabin fever?
I challenged my dog to a game of checkers last night and lost. I called him a cheatin' SOB, and he took it as a compliment. I tell ya, I can't get no respect.
Next time, I'll thrash him in cribbage - I'm pretty sure he can't add to 15.
The month of January seemed to stretch forever with something like 28 consecutive days of morning lows that sunk below zero. And there wasn't that much snow to go around.
My compadre "Jud" reports that he recorded 23.2 inches of snow for the month at his home weather station. That translates to 65 percent of the 100-year average for what should be the snowiest month of the year.
Thankfully, the arrival of February brought snow with it. Still, I found myself feeling grumpy on the way to work Friday morning as I drove through a gray landscape that was reminiscent of Fairbanks, if not Antarctica.
Yeah, I might have a touch of cabin fever. How about you?
Maybe I'm just overly sensitive, but it feels like the number of drivers cutting me off in traffic has gone up during the recent spate of frigid weather.
Twice, drivers pulled U-turns in front of me in slippery conditions on U.S. Highway 40. I didn't honk at them, but they glared at me anyway.
If I have to take much more of this, I'm going to seek professional help.
Every time I stood in line at the post office last month, I noticed an unusual number of people applying for passports. It's a mad rush to conform to new federal regulations before fleeing Colorado for Mexico. Raise your hand if you're not planning a trip to Mexico or Belize. I thought so.
If any of this resonates with you, allow me to offer my "Cabin Fever Self Exam." If you respond "yes" to five or more of the following questions, you may be infectious.
1. Have you caught yourself, at any time in the past four weeks, talking to your oatmeal? Does it sass you back?
2. Did you order two or more swimsuits from the Internet and return all of them?
3. Do you find yourself looking forward to e-mail messages from Expedia.com?
4. Are seed catalogues your primary source of bathroom reading material?
5. If so, has your list of plants filled more than two pages of a legal pad?
6. Is there a picture of Donald Trump on your screen saver? If so, drive yourself to the emergency room. You have something worse than Cabin Fever.
7. Can you name 10 of the 50 animals that appear on the tail sections of the Frontier Airlines Airbus fleet? Is Flip the bottle-nosed dolphin your favorite? Bonus question: Can you name Flip's favorite movie? (Hint: it's an animated feature)
8. When Simon, Paula and Randy shout, "Welcome to Hollywood, baby!" in unison, do you find yourself weeping tears of joy right along with the next American Idol?
9. Do you care who plays goalie for the Colorado Avalanche?
10. Do you snap at the kids when the Avalanche fail to score a single goal in a shootout?
11. Even worse: Have you ordered Colorado Rockies season tickets?
12. Still worse than that: Are you planning a trip to Tucson to watch a solid week of Rockies Cactus League games?
13. Much worse than that: Have you begun planning who your fantasy league relief pitcher will be?
14. Do you know how many days are left in the ski season?
15. Can you predict when the dogwoods will blossom outside Gatlinburg, Tenn.?
16. Did you go on the Internet to check how high the waves are at Maverick's this week?
17. Do you know the precise location of your golf clubs?
18. Have you already opened a bag of Valentine's candy? Is it all gone?
If you've concluded that you indeed have Cabin Fever, there is an easy cure. Give a gentle neck rub to someone close to you. It works wonders.