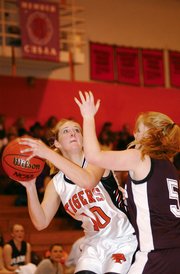 Hayden — The weekend couldn't have gotten much better for seven seniors on the Hayden girls basketball team.
In the last time they'd suit up against cross-county rival Soroco - and during Snowcoming week - the Hayden girls played one of their best games of the year, dominating Soroco 55-35 on Friday night.
"It feels good, really good," senior Emily Whiteman said. "We played well as a team and left it on the court."
The game was never in doubt, as Hayden looked like the more experienced team. Led by the inside game of Whiteman, Holli Salazar and Katy Koehler, the Tigers quickly jumped on the Rams.
"That's the best my posts have played all season," Hayden coach Stephanie Davis said. "We've been working on that all week, and for whatever reason they came to play tonight."
The forward trio of Whiteman, Salazar and Koehler scored 31 points and grabbed 19 rebound.
"Our coach worked on keeping us poised but aggressive," Whiteman said. "She wanted us to be aggressive but not throw the ball away."
Right from the tip, Hayden asserted itself.
The Tigers opened the game on a 10-3 run and made five of their first eight shots. Soroco fought back and closed to with five, at 21-17, with 4 minutes, 15 seconds left in the second quarter.
But unlike some previous games where Hayden would fold when the other team would make a run, Friday the Tigers maintained their composure and answered everything Soroco put forward.
Hayden finished the second quarter on a 12-4 run to make it 33-21 heading into halftime.
"We're riding a rollercoaster," Soroco coach Danelle Rivera said. "We're figuring out how to play this game with consistency."
In the second half, Hayden dashed any hopes of a comeback when the team scored 10 of the first 12 points of the quarter to extend its lead to 43-22.
"This is a fun team when things click," Davis said. "We were able to settle down when they made a run instead of having several turnovers in a row."
Whiteman paced the Sailors with 15 points. Kylee Sweetser added 13 points and Koehler had nine.
Kelsey Samuelson led Soroco with 11 points. Glenda Long added nine points.
The win for Hayden snaps a two-game losing streak but more importantly gives the team more confidence heading into the final quarter of the season.
"Anytime you win by 20 points," Salazar said, "your confidence goes way up."
- To reach Luke Graham, call 871-4229 or e-mail lgraham@steamboatpilot.com