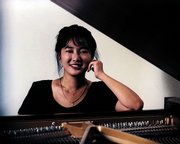 Pianist Tien Hsieh spent the past three months on cruise ships, playing for audiences at sea.
"It's very different from land performances because people are relaxed," she said. "And regardless of anything, they think you're fabulous because they are having a good time."
Hsieh is back on land, and she'll play for a Steamboat Springs audience in a private home Wednesday as part of Emerald City Opera's Outstanding Artist Recital Series.
Hsieh's program Wednesday will include many song transcriptions.
"Instead of the original instruments and genres they were written for, such as voice or violin, the piano offers a different range of colors for these pieces," she said. "The transcriptions are incredible. I love them."
Hsieh will include some pieces by composer Franz Liszt in the second half of her performance.
"They will be the Liszt pieces that brought me to Budapest a couple years ago," she said. "Budapest was one of my favorite performances because it was in the house where Liszt taught himself to the students. He was a Hungarian composer in the 19th century, in the height of virtuosity."
Hsieh and her family immigrated to the United States from Taiwan so they could take advantage of the increased opportunities.
"Taiwan was very academic oriented, and everyone had 110 percent on their GPAs, but was very limited in terms of their freedom back then to go out and do normal things that children do," Hsieh said. "Kids go to school at 8 a.m. and come back at 4:30 p.m., and it was normal for them to have a tutor. It didn't mean they needed extra help, but they would spend three to four more hours a day on different subjects to get ahead of everyone."
Hsieh now spends four to seven hours a day rehearsing.
"Sometimes a little more and sometimes not enough," she said. "I guess it's never enough when it comes to practicing."
And the rewards come during the performances.
One of Hsieh's most memorable performances was at a senior center in a small Texas town.
"After the performance, all these people came up and congratulated me, and I had a hard time understanding them," she said. "I thought it was because I was so hyper after the show."
Hsieh later learned she had played for a group of deaf people.
"They had hearing loss significant enough to be categorized as a deaf community. They felt the vibrations, I guess," she said. "Good thing I didn't know beforehand, because I just acted naturally instead of taking extra precautions for a specific audience."