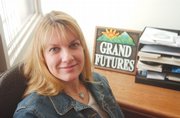 Steamboat Springs — Sandy Visnack has committed the past four years of her professional life to tackling substance abuse issues in Northwest Colorado.
Now the Grand Futures Prevention Coalition will have to find someone else to pick up where Visnack left off.
Visnack, Grand Futures Prevention Coalition's tri-county director, has resigned from the nonprofit organization effective Feb. 20.
Visnack has been the coalition's Routt, Grand and Moffat counties director since the organization restructured its staffing in fall 2006. Visnack previously was the coalition's Routt County director.
Services provided by Grand Futures includes participating in the Steamboat Springs Police Department's alcohol compliance checks, holding substance-free events for teens and providing educational programs and materials to schools and other community groups about substance abuse and prevention.
Visnack said she's leaving her post with the community-based substance abuse prevention organization because her husband, David Visnack, recently relocated to a job in Coeur d'Alene, Idaho.
Looking back on her four years with the coalition, Visnack is confident she helped put in place the stepping stones the organization will need to continue developing its substance abuse education and prevention programs.
"We're starting to make some good progress in developing our board (of directors), so it's a little bittersweet to be leaving at time when we're on the cusp of branching out," she said Thursday.
One of the coalition's primary goals is to bring together other nonprofit organizations, public health agencies, law enforcement agencies and city and county governments to work toward building healthy communities for youths and adults.
John Thrasher, chairman of Grand Futures' board of directors, said Visnack was instrumental in developing current programs and bringing the coalition to where it is today.
"Sandy has helped us find our mission and plan for out short-term and long-term goals," he said. "She's left the coalition in great shape."
Visnack said she is eager to "have her family in one place again," but that she will never forget her time at Grand Futures.
"It's been a wonderful experience," she said. "The position and the organization itself has made a tremendous difference in my life. Hopefully we can take our vision to reality in creating a healthier place for our kids to grow up."
Thrasher said losing Visnack is not only a loss for the coalition, but for the community as well.
"She's bright, energetic and absolutely committed to these counties," he said. "She will be missed."
Grand Futures still is accepting applications for the tri-county director position.
"We're hoping to bring someone in to pick up where Sandy left off in terms of championing our common goals of developing programs and board development to move forward," Thrasher said.
- To reach Alexis DeLaCruz, call 871-4234
or e-mail adelacruz@steambatpilot.com