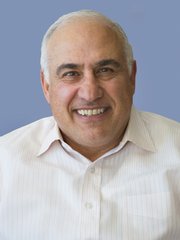 Steamboat Springs — Daniel Hanin was the only applicant for Colorado Mountain College's vacant Board of Trustees position, but he likely would have risen to the top of an applicant pool with dozens of candidates.
Hanin, a Steamboat Springs attorney, holds a juris doctorate from Loyola University School of Law and a bachelor's degree in business administration from California State University at Northridge.
He is a former pro-tem judge and taught at several University of California Extension offices and at Los Angeles Community College. Hanin also is a former CMC adjunct faculty member and a former member of the CMC Foundation.
His familiarity with CMC and his extensive law background made Hanin an attractive candidate for the Board of Trustees, a colleague said.
"We are pleased that Dan has stepped up to fill this vacancy, and are looking forward to the professional expertise that he will bring to the board," said Doris Dewton, chairwoman of the CMC Board of Trustees. "Because he has seen the college from the perspectives of both a foundation member and faculty member, he should inject a fresh insight into our decision making."
Hanin said he is excited to take on a new role with CMC, where he taught ethics, marketing, retail management and legal environments of business from 2000 to 2006.
"When the opportunity arose for me to serve as trustee, it was an opportunity I couldn't pass up," Hanin said. "I have tremendous excitement and a real interest in the college."
The CMC Board of Trustees has seven at-large seats, which are elected by all voters in the counties constituting the CMC District. Hanin will represent Routt County on the CMC Board of Trustees, but he will have to run for election in November.
The Routt County representative must live within the Steamboat Springs School District boundaries, which is why former trustee Rob Dick had to step down.
Board responsibilities include employing and evaluating the president, approving the college budget, establishing college goals and monitoring the progress of the institution.
Hanin will be responsible for attending meetings and staying informed on the work of all CMC's campuses, including the one in Steamboat.
Hanin plans to work closely with CMC Alpine Campus Dean Kerry Hart to improve Steamboat's growing campus and growing course list.
"As a community college, the real goal is to serve the needs of the community," said Hanin, who "more than likely" will run for re-election in November. "It's important, not only for the college at the administration level, but the individual dean's level, to be able to work with the community and find out what the community needs and provide that."