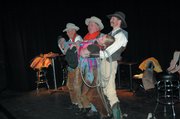 Steamboat Springs — William Shakespeare is crying on the poster advertising the Paradigm Theater's production of "Midnight at the O.C. Corral."
"It is a take off of 'A Midsummer Night's Dream' with a Western twist and takes place in South Routt," said Barbi Bonfiglio, director and producer of the show. "We have taken quite a few liberties with Shakespeare, which is why he's crying on the poster."
But the underlying story of Shakespeare's play remains the same.
"There are four young lovers who are all human, and they mix with the faerie world," Bonfiglio said. "It's just the story of the human world and the faerie world in love, and the colliding of the two worlds."
The play will be presented in a staged reading format.
"The scripts are on stage in the actors' hands, and there's no staging, per se," Bonfiglio said. "The scenes are set by sound effects, light and by the actors themselves - by the way they use their voices and what they're wearing."
The 12 cast members have varying levels of acting experience.
"I do have actors, but I also have cowboys and people who haven't, to my knowledge, been on stage before," Bonfiglio said. "And I have a mix of older actors and young actors."
Lock McShane, who typically does the lighting and sound for many productions in Routt County, will make his stage debut.
"He's always behind the scenes and most of us have never seen him on stage," Bonfiglio said. "But he's reading a part."
This type of production is Bonfiglio's favorite to produce.
"I most enjoy the readings because they are loose enough to allow people who might not otherwise get on stage, to perform and discover how fun it is," she said. "I delight in their delight of performance."