Allison Plean
Allison Plean's column appears Fridays in the 4 Points arts and entertainment section in the Steamboat Today. Contact her at 871-4204 or e-mail
aplean@steamboatpilot.com
.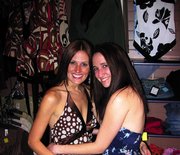 When are the Stereo Sisters going on tour?
That's what someone asked guitarist and vocalist Billy Franklin of E.O.E. Friday night, after my friend Jacquie and I made our stage debut.
We named ourselves the Stereo Sisters this weekend because every time we hang out, we turn things up a couple notches - like our voices - and dancing on stage with the band for two hours is par for the course.
I would expect nothing less with she comes to visit.
I have different personalities when interacting with different people.
Some staff at Mahogany Ridge Brewery and Grill said after we left that they had never seen me act that way before. They've just never seen me with Jacquie.
Each person in our lives fills a particular niche. We have certain friends for certain activities. And we have certain friends that we rely on most to talk with.
Jacquie was my partner in crime when I lived in Boulder. We became instant friends the morning she slumped onto the floor of my cubicle after a long night. From that moment on, we were attached at the hip and the inter-office e-mail. Days with Jacquie would spiral into all-night adventures and endless rolls of film.
Every time we hang out, everything is funny. Everything.
Depending on whose company I am in, I feel like a completely different person.
At work - everything's professional. We all have our "phone voice" and our "talk to the boss posture." And when I start a new job, I am always "mute girl," until I am comfortable.
It is the same when you meet a new person. You have to slowly see what you can get away with without scaring them.
I'm going to visit my parents next week and I know I will revert back to who I was as a teenager. And my family members are the only people who know exactly which buttons to push to make me completely irate or comparatively at ease.
When I am at Steamboat Dance Theatre rehearsals, I relapse back to high school dance team days. I fold my arms behind my back every time the choreographer speaks, and I try not to say, "yes ma'am, thank you" after every correction they give, like I was programmed to do as an Eagle-ette.
But when I'm with "Black Jacq," it's no holds barred. It seemed perfectly natural to initiate a dance-off from stage with E.O.E. Friday night. We even had a winner for both the male and female category.
Everyone deserves a Jacquie - someone you can turn things up a couple notches with - in their lives.