An accidental talent
Andreas Kapsalis used a disadvantage to his advantage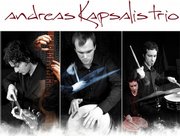 One of the Andreas Kapsalis Trio's unique attributions can be credited to guitarist Andreas Kapsalis.
He is best known for his 10-finger approach to playing the guitar that resulted from an accident in which he severed a tendon in his left hand while working as an apprentice to a luthier.
"A luthier is a violin maker who repairs any type of instrument made out of wood," he said. "I was doing some carving and stuff and made a stupid mistake and sliced through my finger. Funny, every time I tell this story people think I'm making this up. I was just a klutz."
During his recovery period, Kapsalis began playing with his other hand. The technique he acquired involves using your fingers instead of a pick, and hitting the fret of the guitar like hitting keys on a piano.
"I got full motion back in my hand, and that's how this crazy 10-finger thing came about. It changed my perspective on how to play different sounds," Kapsalis said.
The Andreas Kapsalis Trio, which includes percussionist Darren Garvey and drummer Jamie Gallagher, will perform Monday at the Depot Art Center.
Local musicians Skip Warnke, Holden Young, Billy Franklin and Eric Rolls will open for the Andreas Kapsalis Trio.
The Trio's musical sound does not fit neatly into any single genre.
"What we need is a critic coining the right phrase, because we can't come up with a phrase," Kapsalis said. "The improvisations are rhythmically based. There is a slight Greek influence, but essentially more Latin and flamenco, and we carry on the tradition of gypsy music that can go in a million different places, but (we) also have a very earthy, natural sound."
The Trio is an acoustic ensemble that Kapsalis best describes as "tribal Mediterranean jazz."
"It's acoustic music with a lot of traditional, but a really strong sense of disregard for tradition," he said. "We are always jumping around from style to style and we are confused ourselves."
Kapsalis has an easier time classifying the music he composes for independent films. He considers the soundtrack as another character in the film.
"It blends in and shadows over the plot," he said. "Depending on what the mood of the overall film is, I decide the instrumentation and what will trigger emotion."
Out of the five independent films Kapsalis has written soundtracks for in the past year, the documentary "Black Gold" was the most challenging - and the most fun.
"It was the most difficult one because everything is supposed to be kind of neutral, and music can sometimes be opinionated," he said. "It's tricky to find the mutual ground."
The most recent movie he worked on was a horror film.
"With horror you get to freak people out a little bit, but I try to think of something to stay out of the way so I'm not giving out hints," Kapsalis said. "The silence is freakier than anything I would do."
The main purpose of the Trio's music in a live performance is to have the audience walk away having gained something.
"Usually when we are done, we are sweaty and exhausted," Kapsalis said. "It's an emotional release for us and hopefully the audience has an emotional release as well."