Sweet homecoming
Molly Look plays with sisters, does ranch chores after returning home
Thursday, February 1, 2007
How to help
- Donations to help with Molly Look's medical expenses may be made to the Molly Look Fund at any Mountain Valley Bank or Vectra Bank branch. Alpine Taxi is accepting donations for Molly through today. The company will match donated funds, up to $5,000. Cash or check donations will be accepted at Alpine Taxi's barn at 1755 Lincoln Ave. Donations also may be given to any Alpine Taxi driver. For more information, call 879-2800.
- A spaghetti dinner and silent auction fundraiser for the Look family is from 5 to 8 p.m. Tuesday at the Steamboat Springs Community Center. Tickets are $15 for adults and $8 for children older than 5. To donate food or gifts or for more information, call Christian Heritage School at 879-1760.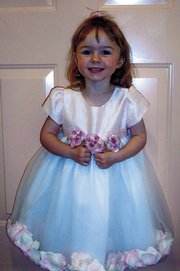 Steamboat Springs — Molly Look spent her first day home feeding the cows.
"Grandpa Dean (Look) was on his way out to the feed cows and stopped by to see if the girls wanted to go," Molly's maternal grandfather, Bob Printy, said Wednesday. "So they bundled Molly up and the three girls went out with grandpa to feed the cows. She loved it."
Molly, 3, returned home Monday evening after spending more than two weeks at Denver Children's Hospital recovering from frostbite. She wandered outside on the morning of Jan. 17 and was found 30 minutes later sitting on a snowbank wearing only a long-sleeved shirt by a passerby. Temperatures that morning were well below zero.
Molly lives with her parents, Del and Yvette Look, and older sisters, Lexy, 11, and Kady, 8, in North Routt County. Dean Look lives about a mile away on Routt County Road 129. Bob Printy and his wife, Bonnie, live about a mile in the other direction.
Molly's homecoming was a blessing, Printy said.
"It was so nice to see her there," he said. "She's very happy to be home, too."
Del and Yvette Look, who had not been home since driving to Denver on Jan. 17 to be with their daughter, also are improving, Printy said.
"It's been pretty hard on them, but they're doing better," he said.
Printy said Molly has lost "several" of her fingertips on both hands and "a few" toe tips as a result of the frostbite.
The Looks will take Molly to Yampa Valley Medical Center every three to four days to have her bandages changed, Printy said.
"She gets around with them on just fine," he said.
Doctors at Denver Children's Hospital were amazed at how quickly Molly could climb a chair to play air hockey.
"She's trying the best she can," he said. "Molly is still quite sick, but she's adjusting the best she can. She's got a long road ahead of her."
Doctors have not told Molly's family whether she will lose more than some of her fingertips or how she will adapt to the loss of her fingertips as she grows older, he said.
"Right now she doesn't know what she's lost. We're just trusting that she doesn't continue to lose more farther down her fingers," Printy said.
To help offset the cost of Molly's medical care, Alpine Bank and Mountain Valley Bank have set up accounts for people to make donations in her name. Alpine Taxi is continuing to accept donations until midnight tonight for Molly. The company is matching donations, up to $5,000. A group of community members is hosting a spaghetti dinner and silent auction for Molly from 5 to 8 p.m. Tuesday at the Steamboat Springs Community Center.
The Looks don't have health insurance.
The Look family is aware and appreciative of all that the community is doing for them, Printy said.
"The community has taken it upon themselves to do all this for us," he said. "It is truly amazing."