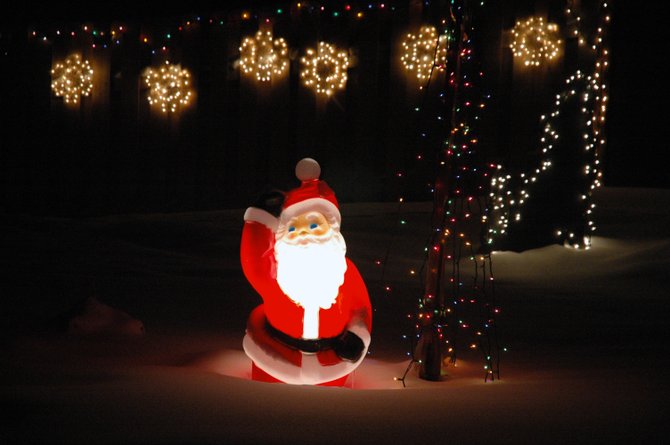 Phippsburg announces holiday lights contest winners
Sunday, December 30, 2007
Phippsburg — For Phippsburg resident Artie Weber, decorating his house for Christmas each year is not just a way to spread holiday cheer, but also a special way to honor the memory of his late father, who kept his childhood home aglow with lights each year.
"My dad always did it when I was kid, and it's kind of a tribute to him," Weber said.
Weber was recently awarded first prize in Phippsburg's annual holiday contest. Weber decked out his house with plenty of lights and dotted his front yard with light-up Santa Claus statues and a nativity scene, despite the fact that he would spend Christmas on the East Coast.
The holiday lights contest judging took place Dec. 21, when a group of secret judges drove around town and decided which houses they liked best from entrants who submitted an application at the Phippsburg post office. The identities of the judges are closely guarded each year, said Julie Iacovetto, who helped coordinate the competition.
Weber's lights are different each year, and he designs the display as he goes along.
"I started three weeks earlier, working on and off," Weber said. "I just kind of wing it."
Winners of the holiday lights contest will receive cash prizes. Each year, Yampa Valley Electric Association donates $250 to the nonprofit Phippsburg Community Club, which added an additional $40 to the prize pot this year.
Weber's display at his Pine Street home took top honors from the judges, winning the $65 prize for first place. He also made a strong showing last year, coming in second in his first attempt at the annual competition.
Weber said Christmas lights are one of his favorite parts of the holiday season.
"I'm single, and it's nice when you come home and the street's all lit up," Weber said.
Weber wasn't the only Pine Street winner - his neighbor, Gerald Sanchez, also helped bring Christmas cheer to the block, taking third prize for his holiday light display.
Second place went to Reggie and Dennis Scofield. Scott and Lisa Constine, and Sarah and Todd Hagenbuch were awarded fourth and fifth place, respectively. Honorable mentions went to Mike Simpson, and John and Charlene Regan.
The holiday lights contest also honored one of Phippsburg's younger residents in a separate category.
"Junior division is 18 or under, and they have to do the bulk of the work," Iacovetto said.
Fifth-grader Leah Walorski, 11, took home the $40 prize for coming out on top in the junior division this year.
Leah is a holiday lights competition veteran, and this year, she decided to alternate red and green lights on her house's deck railings.
"We put a big star under the birdhouse," she said.