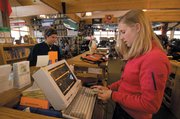 Steamboat Springs — After getting off to a slow start earlier this month, holiday sales boomed in Steamboat Springs the week before Christmas, but still fell short of previous years for most local retailers.
While many downtown businesses reported that December 2007 numbers were down overall compared to previous years, the month isn't over yet, and sales are still going strong, said Main Street Steamboat Springs Executive Director Tracy Barnett.
Overall, sales for local merchants were "a mixed bag," with sales going slowly early in the holiday shopping season and peaking the weekend before Christmas, Barnett said.
"Up until the Saturday before Christmas, it was pretty slow," Barnett said. "But with all the traffic this week, it could still get better."
Although most retailers were pleased overall with their seasonal performance, especially given shoppers' slow start, past years have been better for local businesses, Barnett said.
Barnett was pleased to see tourists in town for the holidays shopping at Steamboat's local businesses Thursday afternoon, when the downtown sidewalks were packed with shoppers even though Christmas had already passed.
"I could hardly get into some of the stores - it was just so crowded," Barnett said. "The stores I went into had more people in them all at once than I have ever seen."
However, downtown's independent booksellers bucked the trend - instead of a downtown lag in Christmas season sales, Epilogue Book Co. reported its strongest Christmas Eve and holiday sales ever, Barnett said.
Off the Beaten Path Bookstore co-owner Leslie Ryan was quite pleased with her bookstore's sales, especially after last year's numbers took an unexpected hit when heavy storms arrived just before Christmas, shutting down Denver International Airport and limiting tourist traffic into Steamboat.
"We actually exceeded last year's levels," Ryan said.
Another exception to the sales shortfall was businesses that also sell their products online.
"Internet sales were way up," Barnett said, noting that such sales often made up the difference when walk-in traffic was lagging.
At Ski Haus, there was no single "must-have" Christmas gift this year. Instead, pretty much everything on the store's main floor, from gloves to jackets, fit that description, manager and merchandise buyer Greg Danziger said.
"Anything that keeps you warm and makes you enjoy your ski day more, we couldn't keep on the shelves," Danziger said.
The three-day weekend before Christmas made up about 60 percent of holiday sales at Ski Haus, where parking spaces have been "virtually unobtainable" for weeks now, Danziger said.
Sales exhibited a reversal from last year - when Christmas fell on a Monday - where the days immediately following the holiday saw the most shoppers, he said.