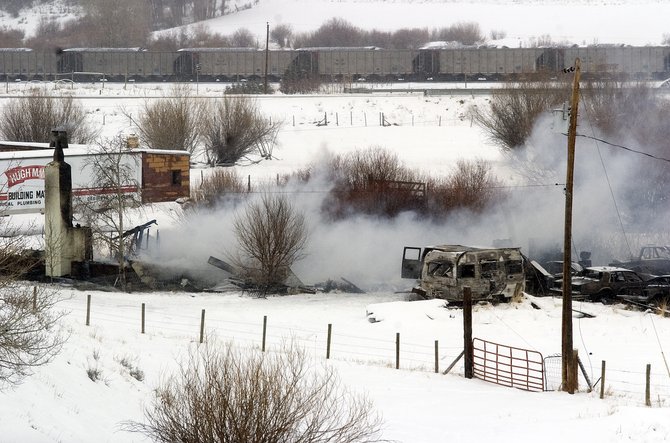 Foos family rebuilding after fire
Sunday, December 30, 2007
Letter from Foos
Dear Editor,
My name is Kathy Foos, and I had my home burn down on Dec. 11 outside of Phippsburg. I would like to take the time to thank everyone who has come forward with moral support, offers of help, food, a car, furniture, money, lodging, fundraisers, shoveling, discounts, gift certificates, help in sorting out the legalities of placing a modular home on my lot, towels, sheets, Smartwool products, and others, you name it. You have all been there everywhere I go. I have found a modular home in Edwards that I can move to my lot thanks to the money that was sent to me. I have to clean up the lot and get ready for it still, but the first part is possible because of the help I received this month from you all. I am especially grateful for the prayers and the Bible.
Thank you again,
Kathy Foos
Phippsburg
Steamboat Springs — Kathleen Foos still doesn't know why she woke up in the middle of the night on Dec. 11. It was not until nearly half an hour later, when she could not fall back asleep after a midnight snack, that she first noticed anything amiss at her Phippsburg home.
Foos saw the smoke beginning to fill her kitchen before she smelled it. Her son, Jules Hedemark, went upstairs to check the chimney, while she went to check outside.
When Foos opened her front door, she felt a "furnace blast" of heat from the garage, which was already engulfed in flames. Foos was yelling for her son to get out of the house when the lights went out.
Foos knew she couldn't hesitate. She ran back into her bedroom and grabbed her 18-month old grandson, then fled her burning home through a window.
Hedemark, disoriented in the dark, fell several times before eventually crawling down the stairs and finding a way out the back door. Foos intercepted him just as he was heading back in the front door to get the rest of the family out.
"Jules was lucky to get out of there," she said.
Foos' fears that her two dogs and two cats perished in the blaze were confirmed when, among her home's ruins, she found the metal collar that her 200-pound English mastiff had been wearing.
Her animals were not the only things lost in the fire. Foos lost almost all of her possessions except the clothes on her back and the baby blanket her grandmother made for her, which she carried her infant grandson out of the burning house in.
Her 120-year-old piano and her classic cars, including a 1977 Chevrolet Impala, all burned. One of Foos' prized possessions had been a hand-carved settee dating back to the seventeenth century, which had been passed down among the women in her family for generations.
"That's probably worth more than the entire house was," she said.
Also among the few salvageable items from Foos' home were a small ceramic pig and a pair of little bronze deer statues, which were slightly burnt but did not melt in the flames, as all of Foos' antique glassware did.
The glass, along with leaded crystal she inherited from her grandmother, all melted onto a 20-gauge shotgun that belonged to her late son, Sam Hedemark. While the wood burned off the firearm, Foos was able to salvage the barrel by breaking the glass off.
The shotgun is the only thing Foos has left that belonged to her son, who died last summer at age 17.
"Every picture of Sam, everything that he ever owned, it all burned," she said. Foos is working to reacquire yearbooks from Soroco High School and photographs from Sam's friends.
On June 23, Sam was killed along with 19-year-old Chris Fuller in an oil tank explosion near Chapman Reservoir in Rio Blanco County. The explosion occurred during a party attended by about 20 people in the Routt National Forest.
Homecoming
Born in Kansas but raised mostly in Manitou Springs, Foos moved to South Routt in 1973. She bought the house on Haymeadow Lane with her husband at the time, who worked at Hayden Station.
The house was sold when they divorced. Foos bought it back in 1989, after the new owner fell behind on mortgage payments.
Foos is currently working on acquiring a new modular home for the Phippsburg property. She found an available doublewide at a construction company in Edwards, where a friend of hers works. The owner simply wants to get it off the property and would let her have it for free, Foos said.
"It just happened to be good timing," she said.
A fund set up in Foos' benefit at First National Bank of the Rockies in Oak Creek has raised enough to cover the $5,000 cost to transport the modular home to Phippsburg, though she will encounter permitting and utility hook-up costs in order to put the home on her property.
Foos is unsure how much the site clean-up and demolition of what remains of her former home will cost. Her home was uninsured. She paid off her mortgage about a year ago, but her homeowner's insurance lapsed earlier this year, she said Thursday.
Hedemark is still recovering from brain injuries he received in a car accident on May 20 on Routt County Road 25 west of Phippsburg. Foos' homeowner's insurance payments lapsed when she left her job to be with her son during his month-long stay at Denver Health Medical Center, where he was airlifted after the accident.
2007 has not been the only turbulent year for Foos and her family.
In 1996, Foos' oldest son, Eric Johnson, was killed at age 19 in a hit-and-run car accident on Interstate 25 near Denver. In 2001, Foos and her son Titus Larsson were involved in a nine-car pileup on Colorado Highway 131. Foos was also at the Colorado Bar in Oak Creek when it was destroyed in a gas explosion in 1982.
"Everything happens for a reason," Foos said. "I have a lot of good things that happen to me, too."
The good in the bad
Since the fire, Foos has sent 78 handwritten thank-you notes to people who have donated money and helped her in other ways. She has a running list of 20 notes she has yet to pen and said she adds new names to the list every day.
Help has come to her in every form imaginable, including $1,700 from Steamboat Ski Patrol, $500 from LIFT-UP of Routt County, meat from Yampa Valley Beef and a box of sweaters and socks from Smartwool.
After Foos received three days of lodging at the Van Camp Cabins from the Red Cross, the cabins offered to let her to stay until Jan. 1 free of charge, Foos' friend Lynny Huston said.
Foos was also offered a month of free lodging at The Royal Motel in Yampa by owner Bill Ager, Huston said.
"There's a lot of people praying for her," Huston said.
Help started arriving the day of the fire, with friends setting up relief funds and collections, and people bringing her a new wardrobe.
"They were all the right size, even down to the shoes - how do you do that?" she said. "People are just amazing."
While most of Foos' assistance has been "$100 here, $100 there" from local families, donations have come her way from as far as Fort Collins, and even Wisconsin.
Foos said she felt blessed to spend the holidays with her family and is trying to get life back to where it once was. With a new sewing machine, she has begun working again on a cape she had been making for her granddaughter - at the time of the fire, all she had left to do was the hem.
"Some things are starting to feel normal again," she said. "I'll be back."