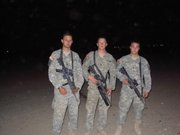 Dave Shively
Dave Shively's outdoors column appears Sundays in the Steamboat Pilot & Today. Contact him at 871-4253 or e-mail
dshively@steamboatpilot.com
.
Steamboat Springs — Two turns in that one stash is all it takes, just enough to produce an awkward yelp, your first words of the day. Then you realize you're alone in the woods, and you belt out a full rebel yell for the other snow gluttons that care to echo.
Doesn't really feel like we're a nation at war, does it?
Powder days insulate you from world events. I could argue the merits of our current military engagement in Iraq and you can argue if we're really a nation, or just a military at war, but the respect due to those putting themselves out there cannot be argued.
I could list the most captivating sports and outdoors stories of 2007, but the best tale of teamwork and survival in brutal conditions came from Patrick McMahon.
McMahon graduated from Steamboat Springs High School in 2003 and was assigned to the Third Brigade of the U.S. Army's 82nd Airborne Division. As luck would have it, that was the same brigade as Eric O'Hara and Tony Haight, who graduated in 2002 and 2001, respectively.
Spc. McMahon didn't contemplate fortune this summer when his company took part in a house-to-house clearance of the Iraqi city of Baqubah, an al-Qaida hotbed that would result in a 50-percent casualty rate. He just solemnly made his final phone calls home. Then in 130-degree temperatures, McMahon's two-man machine gun crew, loaded down with full body armor and as many ammunition rounds as they could carry, huffed from house to house.
McMahon was so exhausted that even "with the whole block rumbling with explosives from our air strikes" and bedding down in a captured house, he was able to catch some Zs before moving on the next day.
They cleared the city in five days, without a single casualty in the company.
On Thursday, McMahon was back in a snow-filled paradise, his first holidays home in two years, sharing breakfast with O'Hara and refilling the 20 pounds he lost during his summer operations.
Sgt. O'Hara didn't have it any easier. He returned to Iraq after a Christmas at home last year to find out his platoon sergeant had been shot. That sergeant lived, but 67 others in the brigade did not. O'Hara had plenty of close calls on daily patrols through the Sunni city of Tikrit, but shrugs off the IED explosions under his Humvee.
Now O'Hara is concerned with relaxing from the major spikes in adrenaline and figuring out his class schedule this semester at Metro State, pursuing a career as a stockbroker.
McMahon has also finished his service and hopes to find work as a firefighter. That leaves Spc. Haight with another year of service, likely to be redeployed.
As this threesome closes out its service abroad, our military action in Iraq continues and another threesome of recent high school grads, this one from South Routt, looks anxiously ahead to the start of their deployments to the desert.
Just a thought for the next time you're spoiled with a perfect turn and feel like howling.