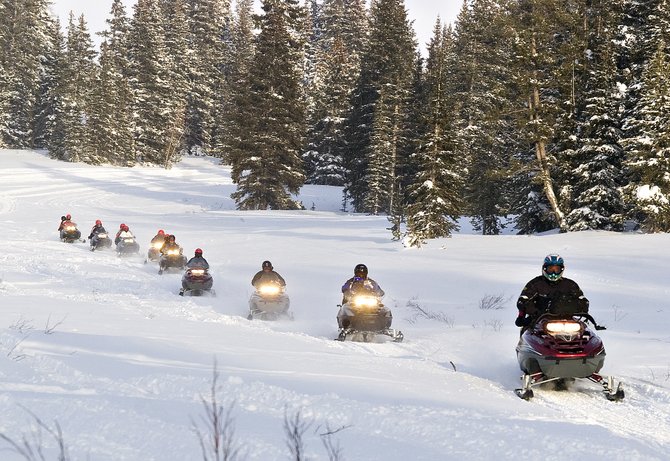 Commercial guides give snowmobile riders keys to the forest
Sunday, December 30, 2007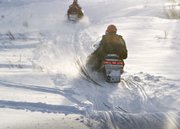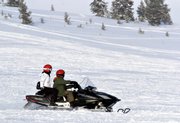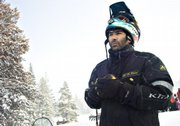 Rabbit Ears Pass — Many casual visitors to the Yampa Valley simply cross over Rabbit Ears Pass - passing it as the formidable boundary to Steamboat Springs while seeing it as a divide, rather than a gateway, to the Routt National Forest. But there's a reason for the heavy use at the main entry point to the broad Alpine asset:
There's plenty of forest out there to be explored.
The Rabbit Ears Pass area is split between Routt and Grand counties, and also split - generally along those same county lines - between nonmotorized and motorized use, respectively.
The guides at Steamboat Snowmobile Tours, whose surprisingly sizable operation lies tucked into the woods south of U.S. Highway 40 near the East Summit, felt a sudden jolt of holiday visitation and heavy snow that put their crew of a dozen guides and nearly 70 snowmobiles to work this week - some taking as many as five tour groups a day out onto cruises around the nearby national forest.
Steamboat Snowmobile Tours and its North Routt-based partner, High Mountain Snowmobile Tours, are the only local commercial snowmobile outfits operating under a Forest Service special-use permit. With a pair of snowcats, SST grooms about 20 miles of trails between U.S. 40 south toward Buffalo Park.
On the sleds
"There's about 1.1 million acres out there and in a couple hours, we're going to try to see as much of it as we can," SST guide manager John Hernandez tells his Friday afternoon group of 16 riders, before going through the basics of operating the fleet of Polaris Trail Touring 550s. "I'd give a limb to be on vacation right now cruising around the Routt National Forest."
Not that Hernandez doesn't enjoy the work, or his limbs. He spends his summers guiding rafts on Idaho's Middle Fork of the Salmon River. But there's just something about this snow and this setting that's brought him back for a seventh winter guiding sleds.
The convoy heads out for a 12.5-mile loop, but a broad meadow filled with six inches of new snow provides the first pit stop for thrills.
A few "flatlanders" like Westfield, N.J., resident Bruce Bernstein make the rookie mistake of stopping, and sinking, the sled on a deep incline, but it's all taken in stride.
"All we ever see is skyscrapers, so this is all beautiful," Bernstein says.
Hernandez regroups the tour and heads on the trails that parallel Routt Divide Trail 1108 to a lookout point that affords views north to the iconic Rabbit Ears outcropping and east to Muddy Pass.
"I don't know about you, but I think I'm in Narnia," Bruce's cousin, Ron Bernstein, says. "You cut your motor off for a second and you're in the middle of the wilderness."
As the sun sets and riders start thinking about the warm cider back at the cabin, it's easy to remember the fundamental reason why guides like Hernandez return every winter and why one of the world's top snowmobile riders - 2007 Winter X Games snowmobile freestyle gold medalist Chris Burandt - resides in West Grand County, and why the industry's leading film production company - Compound Films' Clayton Stassart and Chris Brown - resides in East Routt. It has much to do with that feeling of tearing around the powder-filled meadow in the 500-pound machine and getting face shots of the champagne fluff that hit your exposed teeth and can still warm you even on a zero-degree day.
"It's a unique machine, little bit of wave runner, ATV and highway driving all thrown into one," Hernandez says. "I still love getting on the thing and showing people a good time, something different."
Careful riding
There's plenty of space to ride on the east side of Rabbit Ears. But Kent Foster, recreation program manager for the Forest Service's Hahn's Peak/Bears Ears Ranger District, pointed private riders to the less heavily used areas north and west of Steamboat. Foster took into account the volunteer efforts of groups such as the Routt Powder Riders, the Steamboat Lake Snow Club and the Craig-based NOWECOS, as well as nonmotorized groups like the Friends of the Routt Backcountry and commercial operators like SST and Steamboat Powdercats, who groom and maintain a massive network of linked trail systems.
"They provide a great public service, get out every week to groom and have a great partnership with the Colorado Snowmobile Association," said Foster, pointing out that riders still need to be aware of the uncontrolled avalanche risks of riding in the backcountry.
Maps of the trail systems, highlighting critical elk and deer winter range and motorized and non-motorized boundaries, are available at the Forest Service district office at 925 Weiss Drive and at the Steamboat Springs Chamber Resort Association visitor's center at 1255 S. Lincoln Ave.