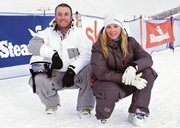 Steamboat skiercross?
The advent of a network-televised, marquee, three-stop freestyle circuit - the Jeep King of the Mountain Ski Tour & Basecamp Music Experience - begs the question of how long it will be before the Steamboat Ski Area plays host to an event "experience" that combines the world's premier ski and snowboard athletes in a slew of freestyle events with a bacchanalia of live music performances, fashion shows and fireworks.
Andy Wirth, executive vice president of sales and marketing for Steamboat Ski and Resort Corp. and chief marketing officer for Intrawest, said the ski area took a serious look, but passed on a King of the Mountain event due, in part, to the challenges of hosting a "very snowmaking-intensive event in December that would redirect efforts from the broader mountain experience."
Wirth also said he will look carefully at the Nielsen TV Ratings from the King of the Mountain's Saturday broadcast on CBS, and evaluate the national exposure benefits of hosting an event in the future.
"We wouldn't rule it out - we take it on an annual basis to determine the best opportunities for Steamboat," Wirth said. He will be part of meetings this week to determine future U.S. Ski Team events and consider the NBC Universal-owned AST Dew Tour, which he said plans to launch an action sports winter tour.
"Steamboat will continue to be a site of world-class events," he said.
Steamboat Springs — It has been six years since Brett Buckles traveled to Europe to compete. Her final 2002 trip was for a European Cup downhill race as a member of the U.S. Ski Team, during her last year as a member.
Buckles' passion for the sport buckled with an odd shin injury that ended her Alpine racing career.
"It forced me out of the sport - I was in pain, miserable and hated it because I wasn't skiing to my ability," Buckles said.
But the competitive desire of the 26-year-old Steamboat Springs native was suddenly renewed when she discovered skiercross in 2004. Now in the midst of her fourth season, Buckles has emerged as a finals contender in every race she enters and is one of the country's brightest female hopes for a skiercross medal, when the sport makes its Olympic debut at the Vancouver 2010 Olympic Winter Games.
In fact, the new freestyle discipline is already gathering support from the U.S. Ski Team. It named Tyler Shepherd as its head skiercross coach in November and now is helping fund two local Steamboat athletes, Buckles and David Lamb, to travel and compete in a pair of FIS Freestyle World Cups next month in France.
Next week, Buckles will leave a week ahead of Lamb for the same mountain in Tignes, France - where she last competed in 2002 - for the 2008 Tignes Airwaves freestyle competition.
Re-ignition
After leaving the race world to pursue a degree at the University of Colorado, Buckles decided to give the head-to-head (to-head), motocross-like, controlled chaos of skiercross a go at a 2004 Winter X Games qualifier. Competing in the high-profile event helped her decide to seriously pursue the sport - despite crashing and breaking a toe in her first X Games that year.
"You follow your heart and it reignited my passion for skiing. I could always go back to school," Buckles said.
At the first Jeep King of the Mountain Ski Tour & Basecamp Music Experience event of this season, Dec. 14 to 16 in Telluride, Buckles took third in the semifinals and then second in the consolation finals to earn sixth place overall, the top U.S. finisher.
The new Jeep-sponsored, three-event series, a merger of last year's The Honda Ski Tour and Jeep King of the Mountain series, is often referred to by Ski Tour founder Kipp Nelson as his hope for a regular season to the Winter X Games' Super Bowl-like freestyle finale. The series already brings an international talent pool with a World Cup-like feel that often rivals Winter X.
Working his way back
Lamb's performance at the opening King of the Mountain event was an affirming return to elite racing form.
At a Ski Tour stop last season, Feb. 28 in Snowmass, Lamb flew through a blind turn into a jump-riddled rhythm section of the skiercross course, where "physics took over."
Lamb's season ended as a bulleted checklist of crucial knee ligaments blew out along with a break to the top of his tibia. After doctors and physical therapists at Orthopaedics of Steamboat Springs and SportsMed-Steamboat helped put Lamb, also a former U.S. Ski Team Alpine racer, back together, he was out on the ski hill Dec. 3 and competing two weeks later.
"It helped phenomenally, mentally, to get back in the game," Lamb said of the Telluride competition, where he qualified 17th to be seeded in the 32-man bracket.
But nothing comes easy in skiercross, as Lamb was reminded on his first-round heat where only the top two skiers advanced.
"Right out of the start, the guy on my left stepped on my ski and this French guy on my right put his pole between my legs, and there was not enough real estate to do anything about it," Lamb said. "The start is paramount in skiercross - like at (the Telluride) course, there were no passing lanes after the start."
The draw
Contact and risk are part of the appeal that brought Lamb and Buckles back to ski racing.
"It's not a game out there," Lamb said. "I was watching footage from last year, and there's wrecks everywhere and people going to the hospital.
"But you get to the finish and the thrill of being pitted against three to five other guys is phenomenal, and for people that thrive off that, it's a rush."
For Buckles, the pack mentality brings a whole different perspective to racing.
"In Alpine racing, all you think about is your own race," Buckles said. "In skiercross, you have to think about your race and the race in front of and behind you and how they affect you. But there's also a camaraderie to have fun that can sometimes get lost in (Alpine) ski racing."
Sharing a renewed competitive drive and rejuvenated health, both Lamb and Buckles are gaining more necessary experience and confidence with each starting gate they learn to explode out of. They will soon head to Europe, hoping to earn their Winter X Games starts and continue a quest that, again, could lead to an Olympic medal.
"When I left the national team in 2000, I let go of a dream that's now a reality again," Lamb said.