Photo Gallery
Heading up the arts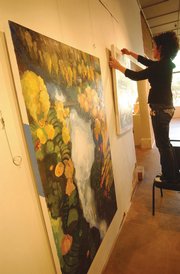 News that shaped local music, theater, dance and pictures in 2007
Steamboat Springs — A handful of art galleries opened this year, significantly upping the number of formal spaces to show visual art. K. Saari Gallery offers up contemporary works in two and three dimensions; the Steamboat Art Museum endeavors to preserve Western culture with pieces native or related to Northwest Colorado; and Leisure Mountain Studio in Yampa grinds the beans for its tasty brews in the same room that rotates local art on a monthly basis. In other gallery news, the Artists' Gallery of Steamboat - a collaborative effort of 26 local artists - had its first birthday party in November.
The Steamboat Springs Art Council celebrated its 35th anniversary, and got new leadership with Marion Kahn, who started as executive director in March. In the last few months, the Council has collaborated with galleries and businesses throughout Steamboat to put together the town's First Friday Artwalk, which in December had 14 participating venues.
In its transition from volunteer community orchestra to finely tuned professional ensemble, the Steamboat Springs Orchestra started its longest-ever concert season, featuring challenging repertoire from Mozart to Tchaikovsky.
Steamboat Dance Theater rang in its 35th anniversary in the same year that dance spaces became scarce with the closing of the Northwest Ballet studio.
Construction on the mountain hit music venues on the mountain. All the Free Summer Concerts moved downtown, and the rooms that offer live bands in Ski Time Square - The Tugboat Grill & Pub, Pirate's Pub and the Steamboat Mountain Theater - started their last ski season before impending demolition.
Strings in the Mountains started construction on its new permanent home, the Strings Pavilion. The summer music series made it through its 20th year in style with performances by the likes of Kris Kristofferson and Eddie Daniels.