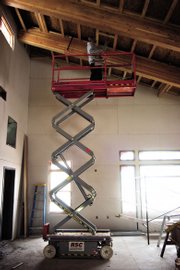 Steamboat Springs — Construction of the new Steamboat Springs Community Center, which aims to be the first building in Northwest Colorado to earn Leadership in Energy and Environmental Design certification, is on track for completion this winter.
"We're delivering the building in February," said Rick Gliniecki, project manager for Fox Construction.
Exterior construction of the $3.6 million facility, which will replace a former community center demolished to make way for an expansion of the Bud Werner Memorial Library, is almost entirely complete. On Wednesday, interior work was being done, including the hanging of drywall.
"All that is recycled and diverted from the landfill," Gliniecki said of the drywall.
A heavy reliance on recycled materials is part of the LEED certification process. LEED is a rating system developed by the U.S. Green Building Council as a voluntary program to define and measure "green," or environmentally friendly, buildings. LEED buildings are awarded ratings from "certification," to silver, gold and platinum levels.
"We're going for silver at this point, but we're trying to accumulate as many points as we can to get gold," Gliniecki said. "You don't know until you submit."
Walking through the Community Center, some of the building's features - such as solar tubes hanging from the ceiling to provide lighting - are obviously green ones. Others are subtler.
"The plastic paneling for the kitchen is 100 percent recycled plastic," Gliniecki pointed out on a tour of the building.
Other features include the use of recycled steel roof panels and wood purchased from suppliers approved by the Forest Stewardship Council.
"When you buy FSC wood, the providers of wood are practicing good forest management skills," Gliniecki said.
Gliniecki said LEED certification has added 8 to 20 percent to the cost of the building but has not made it more difficult or time-consuming to construct.
"Overall, if you plan ahead, it doesn't hinder the building process," he said.
Also, it is hoped that a finished product that will ultimately be cheaper to run will offset the higher price tag. For example, the exterior walls are constructed from dense foam blocks which, when stacked together, create a void which is then filled with concrete.
The resulting walls are highly insulated and very "tight," which means very little air is lost to leakage, reducing energy costs.
"Overall, this building is very, very energy efficient just by its design," Gliniecki said.
Bob Robichaud, facilities manager for the city, said the Community Center, when completed, will provide a new home base for the currently displaced Routt County Council on Aging.
"The primary user is the Routt County Council on Aging, and other than that, we're going to open it up to most anyone who has a need," Robichaud said. "It's a community facility. That's how it will be treated."
Robichaud said the building may host weddings and other functions. Rental fees have not yet been established. The building's main community room has an occupancy of 382 people.