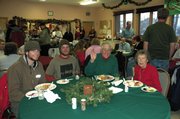 If you go
What: Steamboat Springs Board of Realtors Community Christmas Dinner
When: 1 to 5 p.m.
Where: Holy Name Catholic Church, 524 Oak St.
Cost: Free
To donate food: Call Colleen de Jong at 846-5569.
Getting there: Alpine Taxi will provide a free shuttle service. Call 879-2800 to reserve transportation from Steamboat Springs, Hayden, Oak Creek and Yampa.
Steamboat Springs — This year's Christmas community dinner will bring time-honored traditions to a new location.
The Steamboat Springs Board of Realtors Community Christmas Dinner is from 1 to 5 p.m. Tuesday at Holy Name Catholic Church, 524 Oak St. in Steamboat Springs. The free dinner brings together about 400 people every year for a warm Christmas meal, live entertainment and holiday gifts for children. Due to construction of the new Steamboat Springs Community Center - and demolition of the old center - organizers this year took on the challenge of finding a location suitable for the massive Christmas dinner.
"We're really thankful and appreciative that Holy Name opened its doors to us," said Colleen de Jong, a broker with Prudential Steamboat Realty and co-chairwoman of the dinner's organizing committee. "They've been fabulously wonderful to work with. We couldn't be happier to have that venue."
The dinner's menu will include holiday favorites such as roasted turkey, mashed potatoes, vegetables and desserts.
While people of all ages enjoy their meal, several local musicians will provide live entertainment. This year's list of entertainers includes the Yampa Valley Boys, Randy Kelly and Friends, Greg Scott, guitarist Dave Moloney and pianist Paul Potyen.
Suellyn Godino of Steamboat Real Estate is co-chairing the organizing committee with de Jong. In addition to the real estate community, several businesses have donated food items and volunteers for the dinner.
"I think it's a great way to give back to our community, which gives to us all year long," said Adrienne Stroock, a broker associate with Prudential.
De Jong said she is "heavy on volunteers" for the event, but could still use some donated food items.
"I've got a few odds and ends that we are still trying to get together," she said, welcoming people to call her at 846-5569 or simply take food to the dinner.
The Holy Name Catholic Church has an elevator for handicapped access and has adjusted its Tuesday schedule to allow for the dinner, de Jong said.
"This has been a fun change of venue, and its brought unexpected pleasures with getting to know new people," she said. "We're anxious to get the show on the road."