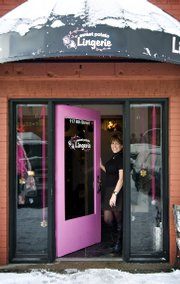 If you go
Sweet Potato Lingerie
Where: 117 Eighth Street
Open: 10 a.m. to 7 p.m., Monday through Sunday
Open until 10 p.m. through Christmas Eve
Call: 879-LOVE (879-5683)
Steamboat Springs — Although sales of women's undergarments and sleepwear are Sweet Potato Lingerie's bread and butter, since the new downtown store's opening Tuesday, men have been by far the best customers.
"There's been more men shopping for their wives than women," manager Jamie Buick said. "And the women are buying stuff for their husband's stockings."
Owner Leslie Faulkner was driven to start the new venture in Steamboat Springs after visiting a "trashy" lingerie shop she was not too fond of while on vacation in Palm Springs, Calif., last winter.
"The lingerie store was so not classy - it didn't make you feel pretty or feminine," Faulkner said. "You just wanted to get your size and get out of there."
Faulkner had an equally disappointing experience when shopping for something special for her anniversary, when she was only able to track down a single, too-small, $200 corset at one specialty boutique in town.
"I thought, where are women buying their bras in town? Where do they go when they want a bustier or corset or something nice?" Faulkner said.
"Through my research, I found most women were buying their bras online, their lingerie online," she said. "And you get something online, and it doesn't fit."
Sweet Potato Lingerie's selection ranges from the everyday, with bras starting at $34, to the gamut of racy lingerie. The store also stocks a range of more modest sleepwear and intimate apparel for those with milder tastes, as well as a wide variety of sizes in its everyday and special occasion apparel.
"I wanted to have a huge variety of everything," Faulkner said. "There's a huge need for plus-size lingerie, because not every woman is a size five."
Faulkner's store also offers professional bra fitting and sells its own line of cosmetics and aromatherapy. A perfume bar is in the works, where men and women can mix their own scents.
Sweet Potato Lingerie's basement also stocks a selection of men's undergarments and sleepwear, costumes and bachelorette party supplies in Faulkner's self-described "fun room."
Faulkner predicts Valentine's Day will be the busiest time of year in her store, and she also expects sexy costumes to be big next Halloween.
Sweet Potato Lingerie is designed to give its customers a comfortable and intimate shopping environment, and to offer a little more privacy than buying lingerie in the middle of Wal-Mart, Faulkner said. Faulkner spent more than a month readying her store's space, in the former Union Cellular store on Eighth Street.
"I wanted a place where people would feel comfortable," Faulkner said. "This is supposed to be fun."