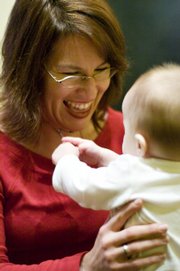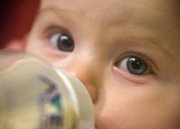 Steamboat Springs — When Nicole DeCrette learned she was pregnant with her first child after moving to Steamboat Springs with her husband in August 2006, fellow Steamboat teachers warned her of the child care difficulties she'd face.
"I couldn't even imagine how hard it was going to be until my daughter arrived," she said. "The hard part is thinking that if we had to do this for three more years, or four more years; that's hard for our family both emotionally and financially."
Despite paying heed to her co-workers' advice and pre-enrolling their daughter, Jacqueline, on day care waiting lists prior to her birth, the DeCrettes endured a long, frustrating process that is far from being resolved.
Their daughter was almost 5 months old when she was accepted into one of Steamboat's two day care facilities for three days a week.
That call came just two weeks before DeCrette was scheduled to begin her duties as the Steamboat Springs High School librarian.
The couple hired a licensed, stay-at-home mother to take care of Jacqueline two days a week, but because of the high cost of living in Steamboat, the woman moved to Hayden.
Paul DeCrette, who works from home, took over the twice-weekly child care duties. The computer software engineer said he gets little work done on those days.
"She maybe naps for about an hour and a half at a time," he said. "It's really hard to squeeze in a little bit of work."
"You could imagine my worry with expecting to go back to work in August, having no options," Nicole DeCrette said. "My mom was ready to get on a plane until we had a solution."
Stephanie Howle, director of First Impressions of Routt County, said nearly every family in Steamboat is facing the same day care struggles as the DeCrettes.
"It's difficult to open new day care facilities when, on average, the typical provider makes only $10 per hour," Howle said Wednesday, during a meeting with regional school officials. "We are trying to license more stay-at-home mothers so they can look after more children to help ease the load on the day are facilities."
Looking for help
Nicole DeCrette and high school counselor Shelby DeWolfe - who also is a new mother and a recent transplant to the area - e-mailed Steamboat Springs School District staff in November to see if other families have the same stories to tell regarding child care difficulties.
"We soon had more than 20 replies," DeCrette said. She and DeWolfe presented the stories to the Steamboat Springs School Board on Monday, with the hope that district officials will help school employees find child care solutions.
"With both my husband and I working for the district, it goes without saying that we would not be able to live here on one income," DeWolfe told the School Board. "So one of us staying home, if child care options are not available, is not realistic."
DeCrette previously taught in the Cherry Creek School District near Denver, which offered employees child care staffed by full-time teachers assisted by high school students.
"We are not expecting the district to fund it, other than some space and maybe some startup costs," she said. "My hope is that if you have 20 families together paying $1,000 a month for 10 months of the year, that is $200,000 just to get going."
DeCrette and DeWolfe recently discussed the issue with interim Superintendent Sandra Smyser, who said employee day care would not be a funding priority this year. Smyser, a mother of three, said employee day care is something the district may look toward in the future to help attract and retain educators.
"I was fortunate in life to stay at home for many years for my first two children, and an at-home provider for my third," Smyser said. "This wasn't an issue for me where I had my children because we had lots of options to choose from. Parents shopped and interviewed the people. To not have any choice at all and take whoever is available is a scary prospect for any parent."
Attracting and retaining
DeWolfe is in her first year at the high school, where her husband, Luke, is a physical education teacher.
"In addition to the concerns with my family, my concern is also with the students who are constantly seeing teachers, counselors and (other staff) come and go because of the difficulty in making a living in this area," she said. "More than once this year students have said to me, 'Are you going to be here next year? Every year I have a new counselor and tons of new teachers, so why should I even get to know any of you.'"
DeWolfe said it's a promise to students that she can't make.
"My heart broke for these kids because I could not guarantee that I would be around next year, as we are facing a child care crisis," she said.
Soda Creek Elementary School teacher Chris Adams responded to DeWolfe and DeCrette's child care inquiry.
Adams and his wife, Lisa, have a child care story similar to DeCrette's and that of many other families in Steamboat. They enrolled their child in day care prior to birth, but it wasn't until shortly before the couple was to report to work in August that they found an at-home provider.
"We had no day care lined up for my son in July," he said. "My wife was basically saying, 'Chris, if I don't find day care for Braden, I have to stay home.'"
The DeCrettes say they moved to Steamboat to escape life in the suburbs and long trips to the mountains on Interstate 70. On Thursday, neither could guarantee whether the high cost of living for young professionals in Steamboat would drive them back to the Front Range.
"Our income situation would have to change a lot to be able to afford it," Paul DeCrette said.
"For me, I don't know," Nicole DeCrette said, as she played on the floor of their home with her daughter. "But one of the greatest things about living here is that people seem to want to make change. That's my hope."