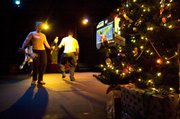 Past Event
Friday, December 21, 2007, 7 p.m.
Steamboat Mountain Theater, Steamboat Springs
Not available / $5 - $10
Steamboat Springs — Developing an idea for this year's We're Not Clowns Christmas show went something like this:
"They came up with the loose idea that they wanted to talk about them saving the planet from global warming, and that Al Gore was going to be involved," said Todd Danielson, who wrote the show and will play the former vice president.
"It's not going to be one of the best Al Gore impressions that people have ever seen," he said.
The basic plot? Santa approaches We're Not Clowns, a local juggling and acting troupe, to lend a hand with keeping the North Pole from melting, which would be a huge detriment to his toy racket. The evil Global Warming Miser (whose first initials are G.W., a topical reference Danielson said isn't a coincidence) is threatening to ruin the holidays by driving Santa's elves out of a home.
"Through our general tomfoolery, we save the world," said Kelly Anzalone, who owns the Steamboat Mountain Theater and founded We're Not Clowns.
"We also save all the elves - because elves can't live in a warm environment. I didn't know if you knew that," he said.
Running at about an hour and full of flashy stage tricks and slapstick jokes, the show is family-friendly, Anzalone said. Danielson's sense of humor is a little more adult, and both he and Anzalone said they used "The Simpsons" as an inspiration for crafting topical jokes for mature audiences.
"The idea was to be an all ages kind of show, so the kids could watch it and look at the pretty juggling, but the parents taking them could think it's a really funny show," Danielson said.
Because We're Not Clowns is into laughter, and not preachiness, Danielson said he tried to take a jab at every side of the global warming issue.
"I'm personally on one side of the issue, but we wanted to kind of make fun of everything," he said.
Throw in a company commitment to excellent entertainment - "We're Not Clowns doesn't tolerate failure," Anzalone said - and you've got a show that's "fabulously funny, excitement for the whole family," he said.
Of course, no production relying on jokes about Al Gore's now famous PowerPoint presentations would be complete without what Anzalone called "sweet video effects."
"George Lucas is probably going to be calling me up to ask me how I did it, but it's a trade secret," he said.