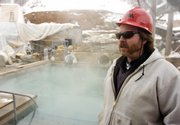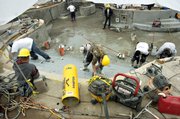 Steamboat Springs — Pat Carney says the amenities included in a $5 million renovation project at Old Town Hot Springs will open as they are completed throughout the holiday season.
"Obviously, a lot's happening the next few days," said Carney, executive director of the spa and fitness center at Third Street and Lincoln Avenue in downtown Steamboat Springs. "Somewhere between the day after Christmas and New Year's, pools will open as they're ready."
The capital improvements include a new 3,000-square-foot hot pool, an aquatic climbing wall, two 230-foot water slides, a 240-square-foot spa, a refurbished Heart Spring pool, a new, glass-enclosed slide tower, a remodeled lobby and a new cardio room overlooking the pools.
The nonprofit facility is visited 250,000 times a year by local residents and visitors.
Old Town Hot Springs spokeswoman Riley Polumbus said the water slides, which replace the old green slide built in 1981, likely will be the first new amenity to open. She said Old Town Hot Springs will hold a celebratory event for the opening. The new slides were custom designed and built and are intended to provide a speedy ride.
"They're definitely faster than the old slide," Polumbus said. "You ride it like a luge as opposed to sitting up."
Carney had hoped to have the project finished by Christmas, but construction was frustrated by a collection of surprises, mostly during the excavation work this summer. At that time, Carney compared the process to an archaeological dig; surprises included the discovery of two new springs and a 100-year-old clay water pipe.
"There were several generations of renovations of pools and structures from however many decades ago that we found," Polumbus said.
Excavation around the Heart Spring also revealed a leak. After attempts to plug the leak failed, the decision was made to drop a well and pump the leaking water back into the spring. Carney estimated as many as 100 gallons a minute had been leaking from the spring, or a third of the 300 gallons a minute it is capable of producing.
"The biggest challenge here is you have limited space to have many people working," said Chris Perkins, project manager for general contractor TCD Construction. "The logistics of it have been extremely difficult."
On Wednesday, many employees worked hurriedly throughout the site. A large plastic tent hung over much of the site, which was being kept warm by a diesel heater. Perkins said tile and plaster work requires temperatures of at least 60 degrees.
"This is why it's opening in phases," Carney said. "There's a lot going on in here. A lot of things have to get hooked up here in the next few days."
- To reach Brandon Gee, call 871-4210
or e-mail bgee@steamboatpilot.com