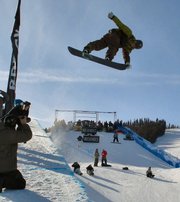 Steamboat Springs — Ariel Tredway had never landed a backside 540 until the day before she competed at the Chevrolet U.S. Snowboarding Grand Prix, held Friday and Saturday in Breckenridge.
But something about the talent at the premier halfpipe competition, used in Olympic years to determine the national team, had a contagious effect on local athletes like Tredway.
"Practicing the day before, I saw (2002 Winter Olympic halfpipe gold medalist) Kelly Clark whiz by me, so I just decided to huck myself," said Tredway, who stuck the trick and decided to incorporate it into her first run Saturday morning.
Although Tredway linked a frontside 540 into a backside 540 for her "best ride, contest-wise, ever," she fell short of the women's eight-rider finals, which Aspen's Gretchen Bleiler won, followed by Clark in second and Hannah Teter in third.
Still, Tredway's coach on the Steamboat Springs Winter Sports Club's pro-am freestyle team, Spencer Tamblyn, considered the 17-year-old's competition run a serious breakthrough.
"It's the kind of event Ariel's been working toward for the last two seasons," Tamblyn said.
Tredway's result (24th) also marked the top finish for the seven Steamboat athletes qualified to compete.
Steamboat's Matt Ladley finished in 55th after completing only one of his two runs. Judges select the best run of the pair based on technical difficulty, amplitude and style.
"He had a good run, no falls, with a gigantic and beautiful 900, but the level of competition is in a realm so high you need just amazing runs," Tamblyn said of the competition won by 2006 Winter Olympic halfpipe gold medalist Shaun White, who finished 6/10 of a point ahead of Breckenridge's Steve Fisher, the 2007 Winter X Games superpipe gold medalist.
No Winter Sports Club riders made the elite, top-16 finals list - neither did much of the U.S. team - but Tamblyn was more than pleased to see his young athletes take their riding to a new level. That list included Valerie Reynolds (32nd), Blake Eddington (67th), Tyler Anderson (87th) and Chad Oliver (99th). Colin Tucker also qualified, but he did not ride in the event.
"Everyone on the team rode so well, all the guys threw down," Tredway said of her teammates. "All these kids are stepping up and are the face of the next up-and-coming kids that are going to change the whole industry."
Tamblyn is certainly excited to see how the confidence gained in one of the biggest events of the freestyle snowboarding season will carry the team into its first Chevrolet Revolution Tour event of the year, Jan. 11 to 13 in Spirit Mountain, Minn.
"What a great opportunity to mix it up with the best of the best - I mean, Shaun White and Steve Fisher - you're talking about two of the best in the world," said Winter Sports Club snowboard program director Jon Casson.