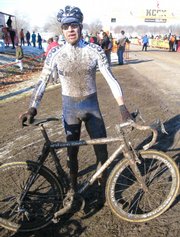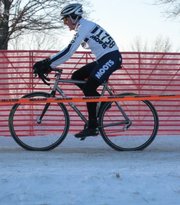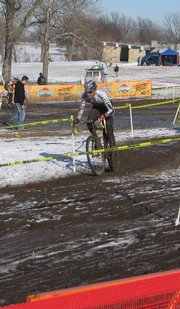 Steamboat Springs — While many Steamboat Springs residents bemoaned the mild fall weather and late snow this year, a trio of local cyclists was secretly grinning.
Jon Cariveau, Glen Light and Adam Parke welcomed any extra day they could get to train for two big weekends of state and national competition that capped the late fall/early winter cyclocross season.
And when the harsh winter weather finally came, Cariveau and Light, who work at Moots Cycles, and Parke, a junior at Steamboat Springs High School, were ready for championship events designed for athletes who can thrive in the most adverse off-road cycling conditions.
All three posted top-20 finishes at the snow-covered 2007 American Cycling Association Colorado State Cyclocross Championships, Dec. 9 in Lyons. The trio then headed to Kansas City, Kan., for last weekend's USA Cycling 2007 Cyclocross National Championships.
What they found was a rutted and hilly course torn apart by a record 2,045 entrants, frozen nights and heavy-use days.
But Cariveau thought Steamboat's high-country training grounds gave the local group a leg up on some of its lowland competition.
"With all the training at Howelsen, it helped with the hills and the features you can ride over there," Cariveau said. "And you become adept here at riding on snow and ice. Plus there's the altitude - I felt like we could really go hard and not blow up."
Cariveau has been to six of the past 10 nationals and Light has been to two. Saturday's 22-degree temperatures and few inches of new snow played right into their favor - even in Parke's first appearance on the big stage.
All posted their top finishes to date.
In the Masters 40-44 division race, Cariveau worked his way up from starting in 110th place, and four wrecks, to an eighth-place finish.
"On that last one, I crashed into a metal barrier and my right shift lever broke off so I did the last 1/2 lap with one gear and no front brake," Cariveau said. He had an easier run Sunday, when it mattered most, racing among the country's top professionals in the final Elite Men's race.
He started 137th of about 150 racers, but with a little less air in the tires, he managed to move up toward the lead pack of pros in the first lap and hold on for a muddy 26th-place finish.
Light also earned a 26th-place finish in a large Masters 35 to 39 division Saturday, starting from one of the last rows of the 160 racers.
"I did my best to move up, and I'm happy with how I did - no crashes that caused injury or damage to the bike," Light said.
Although it wasn't for a sanctioned age division national title as much as pure bragging rights, Light was happy to return to the course Sunday to earn a top-10, single-speed division finish.
"I had learned from the day before some of the lines, not fighting the bike as much and just hanging on for the ride and letting the bike slide around a little more," Light said of the tactics for his ninth-place finish.
Parke, racing in the Junior Men 17 to 18 division, finished in 13th place out of a competitive field of about 40 racers.