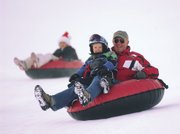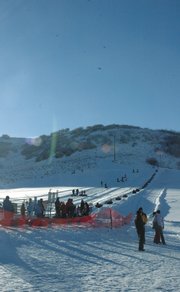 Steamboat Springs — When Saddleback Ranch started hosting holiday parties with sleigh rides and Santa four years ago, it was a small-scale event at the Steamboat rodeo grounds.
"It all started out that we just wanted to give kids a sleigh ride, to kind of give them a little bit of an afternoon experience. And it kind of got out of hand from there, I guess," said Wayne Iacovetto, whose family owns the ranch.
By 2 p.m. Sunday, Iacovetto guessed 700 people had shown up for the Saddleback Ranch Cowboy Christmas Party, which has been at the ranch itself for the past three years and featured free tubing, sleigh rides, cookies and hot chocolate.
"We ran out of tubes and everything," Iacovetto said, standing in one of two overflow parking lots crowded with groups of bundled up Routt County residents waiting to be taken to the ranch's lodge and Yee-Haw Tubing Hill.
Barry Hoffman, who came to the event with his wife and three young children, said he has been to the party every year since it moved to the ranch.
"We live in Milner, so it's just a hop, skip and a jump for us," Hoffman said. Lines of people waiting for tubes and three full parking lots were indicative of how the event has grown since his family started coming to it, Hoffman said.
"That first year, the first parking lot that you come to was the only one that had cars," Hoffman said. "Now it's overflow of overflow."
Families with young children were out in force. Steamboat resident Ellie Mcatee brought five very excited tubers to the afternoon party.
"It's such a pretty afternoon. We figured we'd get the kids out here and play," Mcatee said.
Those families also had an opportunity to contribute toys for children spending the holidays in Denver's Children's Hospital. Iacovetto estimated the number of toys from this year's collection at "a couple of truck loads."