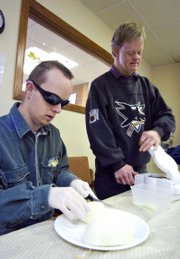 Need employees?
If you have work that would meet the needs of the Horizons Specialized Services day program, call Horizons vocational specialist Mike Dwire at 871-4800.
Steamboat Springs — After lunch at the Horizons Specialized Services day program, Jamie Kaminski is talking, and smiling, about her work as a dishwasher at Cugino's Pizzeria and Italian Restaurant.
"I love it," Kaminski said of her part-time job, adding that she wants to learn how to bus tables. Kaminski is one of several Horizons clients who work at a local business a few days a week.
Like other program participants who hold jobs - at businesses including Snow Bowl, Ace Hardware, Qdoba Mexican Grill, City Market, The Egg & I and Safeway - Kaminski likes to work. Horizons vocational specialist Mike Dwire recognizes that desire to stay busy. He is looking to fill that desire this winter by finding in-house work for day program participants.
"It definitely gives them a sense of purpose and a sense of knowing they are doing something that needs to be done for somebody else," Dwire said. "They really take it seriously."
For the past several years, the Horizons program has collated sets of fliers for Alpine Taxi. The company decided to package those advertisements in a booklet this year, eliminating its collating needs. Dwire said Horizons is now looking for a similar job - any kind of mailing, organizing, filing, shredding or collating - to fill time this winter.
Alpine Taxi "had to have (the fliers), and during the winter we'd put 14,000 of them out," Dwire said, adding that last year's work load was a little more strenuous than what the program is looking for.
The day program serves 23 adults with developmental disabilities. Developmental disabilities occur at birth or in the first 18 years of life, and include cerebral palsy, autism spectrum disorders, Down syndrome, mental retardation or any other severe, chronic disability that can be attributed to a physical or mental impairment.
Because the profiles of its participants are so varied, the day program is looking for work that can apply to a range of levels of function and skill.
"Some of the guys either don't want or aren't capable of going out and getting a job in the community," Dwire said. Throughout the years, Horizons clients have put together cross-stitch packets and assembled molds to make candles.
Aside from filling time on cold winter days, in-house work at the day program has benefits for adults in the Horizons program. Their day-to-day needs are paid for by Social Security, Dwire said, so the money they earn is theirs to spend.
"They all know the value of a dollar," Dwire said. "Even if they don't know what a dollar is, they know it'll buy them a Coke."
- To reach Margaret Hair, call 871-4204
or e-mail mhair@steamboatpilot.com