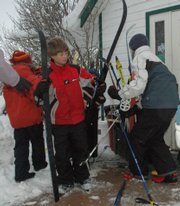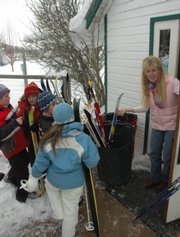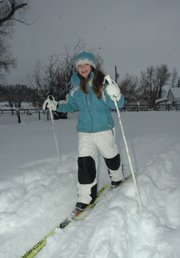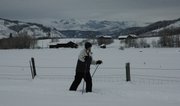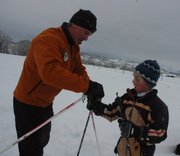 To help
Although 20 energetic kids making tracks can function as a grooming machine in its own right, Hahn's Peak Nordic Team coach Dave Mark is looking for a community donation of a snowmobile (with reverse) to help the nonprofit program with trail grooming. Contact North Routt Community Charter School at 871-6062 or Mark at 846-8066.
Clark — The line of little bobbing heads slowly works its way across the wide-open, snowy expanse between North Routt Community Charter School and North Routt Preschool. This would be just another Thursday winter afternoon in the lives of these hardy elementary- and middle school-aged children, if it weren't for the extra kick in their strides.
For the first time, students at the small K-8 charter school just outside of Clark have the chance to field a competitive team - a cross-country ski team.
"I've been cross-country skiing for the last four to five years, but this will be my first year getting to compete," 11-year-old charter school student Will Zupan said before Thursday's after-school practice. Will said he is excited for the newly formed Hahn's Peak Nordic Team's season, which will culminate at a Rocky Mountain Nordic competition in Aspen.
As a charter school parent and former ability coach with the Steamboat Springs Winter Sports Club, Dave Mark saw the formation of a junior Nordic ski program in North Routt as a bit of a no-brainer.
"These kids usually ski every day anyway, and most of the kids know how to cross-country ski, just not with a competitive focus," Mark said. He has helped establish a Friday ski program to fit the school's Expeditionary Learning Outward Bound curriculum approach and often leads students to ski trails throughout North Routt.
Now, Mark has helped participants in the extracurricular ski program earn sanctioning as "satellite members" of the Winter Sports Club.
"We've got a lot of parents and teachers helping out - it's a real community thing," said Mark, also the grooming chairman of the Steamboat Lake Snow Club. "It gives these kids an opportunity to go on to the high school or the Winter Sports Club programs and be prepared when they get there. And I think we've got some good, talented kids."
Raring to go
The nearly 20 students, ages 6 to 13, certainly didn't hesitate to get outside after school Thursday, knocking over the ski bin while trying to grab skis and get back on the looped trail north of the school. The students broke the trail earlier in the day during PE class.
"We'll go three days a week and work on our technique while we ski," student Tessa Lindahl said before taking off. "It's fun. Sometimes we'll play ultimate (Frisbee) on our skis."
Watching Mark and a handful of other coaching volunteers walk the students through the finer points of bindings and pole loops, it's clear that Mark's emphasis is in the excitement of introducing a lifetime sport rather than in race results.
The team traveled to Vail on Saturday to check out the joint high school/Rocky Mountain Nordic divisional interval-start classic race, just to get a taste of what they're aiming for.
The junior competitions will start for the Hahn's Peak Nordic Team with the Winter Sports Club's local, four-race Steamboat Cup Cross-Country Race Series.
From there, the rest is up to the students.
"I wanna try skate skiing, I can't wait," Luke Jankoski told Mark, before cruising ahead to join his classmates - who are now his teammates.
"I just like cross-country skiing," Zupan said. "If I don't do it in high school, I'll keep doing it - I like getting out and being able to be on my skis and lift up my feet.
"I've been on downhill skis since I could walk, but you can't go around as fast on downhill skis as you can on skate skis."