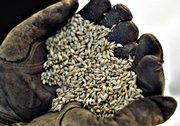 Hayden — The next time Kurt Frentress drinks a Coors beer, he might be tasting malt barley harvested on his Hayden ranch.
The fourth-generation Hayden rancher was one of three Routt County farmers asked by Coors Brewing Company agronomists to grow the crop in a pilot program aimed at expanding the company's regional malt barley supplies. To Frentress' surprise, his harvest met the company's specifications for protein, color and plumpness.
"I really didn't have very high expectations on meeting their pretty strict standards," said Frentress, who planted 180 acres of malt barley on his ranch.
"We are limited in what we can plant in Routt County because of a short growing season with the weather," he said. "But the cool nights seem to be beneficial to high-quality barley."
The cool nights were a bonus, but this year's lengthy summer drought and heavy August rains convinced Frentress that the inconsistent weather had been too hard on his grain.
"I thought it was ruined," he said.
Despite his reservations, Frentress sent a sample of his malt barley overnight to Coors agronomists in September. He heard back a short time later that he met their specifications, and in November, Frentress shipped his first semi-trailer of 1,000 bushels of barley to Coors' storage facility in Longmont.
"We get about $3.80 per bushel after we haul it," Frentress said. "With wheat, you get about $7 per bushel, but with barley you usually get a much better yield and so you make up for that."
Routt County Extension Service Director C.J. Mucklow said he also had little expectations of success.
"We can grow barley easy enough, but malt barley is a challenge to meet their standards," Mucklow said. "This is the first time I'm aware of that we successfully grew malt barley here."
Feed barley, used to feed livestock, is grown throughout the Yampa Valley, Mucklow said, but Frentress' success in growing the higher-quality malt barley could be a boon for the region's farmers.
"It's real promise that we'd have some real diversification in small-grain growing in Routt County," he said.
Mucklow added that the high price for wheat may keep some farmers from turning to malt barley, but Frentress noted he plans on expanding his barley-growing efforts as he anticipates the price of wheat to fall.
"This spring, barley looked better than wheat, but wheat shot up because of its use with fuels," Frentress said. "It's always speculation."
He added that crop speculation has always been part of the job for farmers.
"People moved away from growing feed barley in this area after World War II when wheat prices went up, but when I was a kid in high school 25 years ago, we still grew a lot of it," he said. "People just got away from it because of the dry weather."
- To reach Mike McCollum, call 871-4208
or e-mail mmccollum@steamboatpilot.com