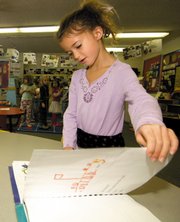 Steamboat Springs — Many of Georgia Reust's kindergarten students are well versed in writing a skillfully crafted letter to Santa Claus, but a class project recently turned their letter-writing efforts toward the environment.
"Dear World, I'm sorry that you are getting hurt by people littering," said Caleb Sharp, 6, one of about 15 Soda Creek Elementary School students who wrote letters and drew pictures about the dangers that may be facing the environment.
Reust collected the letters and drawings and bound them into a book titled "Dear World."
Some students drew large clouds of smoke, while others drew an ocean full of trash. Caleb drew a forest, strewn with litter.
"Here are some cups of soda that fell out of a trash can," Caleb said, before explaining why it's bad to litter. "And then the deer come over and they can eat it, and they can get sick and die. And God doesn't want that to happen."
Sarah Burkhart, a teacher's aide in Reust's class, came up with the idea after reading Lannis Temple's book, "Dear World," which recounts Temple's 40-country tour collecting letters from students about their hopes and fears for the Earth's future.
"We just came to the end of our unit talking about animal habitats, and I wanted to ask them what they would say to the Earth," Burkhart said. "Kids can have a strong voice, and these kids already understand many of the deep issues facing the planet. They understand that when you cut down a bear's forest, that the bear has lost its habitat and comes to the city."
Elena Rawlings, 5, drew a picture of a cluster of pine trees under attack by beetles.
"I think that the beetles killing the trees are bad," she wrote in her letter. Elena added that she doesn't want the trees to die because she enjoys tree skiing and camping.
"I don't like them because they eat the bark," she continued. "I don't like that people shoot animals and throw trash on the ground. I wish that our whole Earth would be very nice and pretty. I hope that animals, plants and flowers never die."
Reust said the letters are perfect examples of the pure honesty of children.
"They are purely honest when they describe something to you," she said. "Their answers are so upfront, and some of the things they come up with are such common sense that you have a hard time believing you didn't think it yourself."
Elena's mother, Liz Rawlings, said some of the letters in the collection brought her to tears, while others made her laugh out loud.
"Dear World, don't let people cut down trees," wrote Macie McQueen, 5. "The trees die. Then, they put them on the playgrounds and they call them wood chips."
When asked why she wrote a letter to the Earth, Macie replied, "Because I feel like it's beautiful."