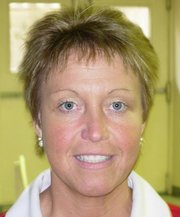 MCTA votes to supplement Visitor Center
During Wednesday's meeting, Moffat County Tourism Association board members voted to supplement their agency's funding to the Craig Chamber of Commerce for the Moffat County Visitor Center.
In addition to $12,000 that MCTA pledged to the Chamber earlier this year, MCTA voted to add $7,000, up to a total of $19,000 in 2008.
The initial $12,000 was a $4,000 increase from MCTA's 2006 Chamber contribution.
Board members felt because of community opinion, MCTA should contribute more but should not be accountable for the entire amount.
"I certainly don't think MCTA is completely responsible for" funding the Visitor Center, board member John Ponikvar said. "I look at the Chamber budget and think they should have more money than they say, too."
Board president Tammie Thompson-Booker and member Frank Moe reported they attended a joint meeting among the city, county, Chamber and MCTA on Monday, and that both felt "very positive" about progress made toward working together.
Some businesses donated money to the Visitor Center, and the city and county were open to looking at contributing also, Moe said.
The MCTA board also looked at the possibility of funding a full-time Visitor Center staff person. That position would answer to the MCTA, Thompson-Booker said.
MCTA board member Patricia McCaffrey suggested the Chamber also look for volunteers to make up some of the financial constraints.
"If people were willing to volunteer until we can come up with a long-term solution," McCaffrey said, "there wouldn't be budget problems until on down the road" when everyone knows their budget.
Craig — Shelly Flannery requested the Moffat County Tourism Association board allow her to step down as executive director at a special meeting Wednesday morning.
"I feel like there's not going to be an opportunity for MCTA to accomplish what it wants to accomplish if it continues in the vein that it's presently continuing," Flannery said. "I'm not stating that the vein they're in right now is incorrect. I'm stating that due to community input, community perception and due to the issues at hand concerning the viability of the Visitor Center and staffing and all the issues that came up - whether in a public meeting, at a coffee table, in a back alley or in the Craig Daily Press - we all have to admit there are issues."
Flannery said she did not want the executive director position to be part of speculation that MCTA did not use the lodging tax fund to the best benefit of Moffat County.
"I feel right now that the issues you face as a board - concern about the money in the fund, the way you budget them - are causing undue concern," Flannery said. "And I believe that it would be in the best interest of both parties that we ended the Independent Contractor Agreement, and you were able to seek a new game plan."
Flannery was visibly upset about the decision and expressed regret about leaving the agency.
"I'm still very passionate about tourism and tourism in Moffat County, and that's part of what makes this difficult for me," Flannery said. "I also want it to succeed, and if we continue with our relationship, I don't see that happening."
Recent controversy - mostly surrounding how MCTA allocates lodging tax revenue in the wake of the Moffat County Visitor Center funding debate - has derailed an agency that was making progress, Flannery said.
"I saw a board of directors who worked together well, had a plan, who had been involved in this for months and months and months," Flannery said. "They are being torn apart right now."
Whether the MCTA board hires a new executive director or not, Flannery asked that board members renew their sense of direction by working together.
She also requested to work through the end of January so she could advise MCTA board members of ongoing projects.
Those include updates to county brochures and outstanding grants that have not been finalized. Flannery also wants to make sure the board gets her contact list and notifies the agencies and groups around the state of the changeover from an executive directive to a board directive.
Flannery said she wanted to "make sure there is a smooth transition."
Attending board members agreed to honor Flannery's request and release her from her contract with Moffat County on Jan. 31.
The board could not vote to release Flannery or not because there was not a sufficient number of board members present to hold a vote.
Board member Frank Moe excused himself from the meeting for the duration of the director conversation because he said he was not sure if the discussion should be held in private under executive session laws.
The board decided to seek counsel from Kathleen Taylor, Moffat County attorney, before making a final decision. It will address the issue of hiring another executive director or not at January's board meeting.
Flannery said she will remain in Moffat County but did not comment on her future plans.
Although Flannery's departure presents a setback to MCTA, there are potential opportunities such as bringing in a professional marketer and recreating the tourism campaign from the ground up, said John Ponikvar, who was recently appointed to the MCTA board.
"There are lots of opportunities here because of this," Ponikvar said. "It's going to take some discussion. Everybody needs to sit down and work together and talk about it."
Collin Smith can be reached at 824-7031, ext. 209, or cesmith@craigdailypress.com