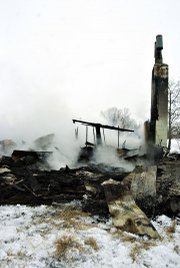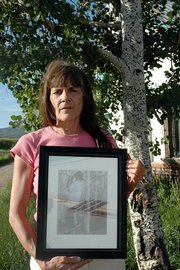 Phippsburg — A Phippsburg woman's house burned to the ground early Tuesday morning, the latest in a string of tragedies for the Foos family.
Kathleen Foos, one of her sons, and her 11-month-old grandchild escaped without injuries, but it is believed Foos' dogs were killed in the blaze.
The chimney fire started shortly after midnight, Foos' son Titus Larsson said. The fire continued to smolder early Tuesday afternoon, and the Yampa Fire Protection District returned to the home during the day to extinguish the remaining hot spots, Larsson said. Fire district officials could not be reached for comment.
The fire gutted Foos' home and garage, leaving only the fireplace where the blaze began still standing.
"She lost everything - cars, house, everything," Larsson said.
Tuesday's fire was the latest setback for Foos and her family. On May 20, her son Jules Hedemark was injured in a car accident near Routt County Road 25 west of Phippsburg. Jules was flown to Denver Health Medical Center, where he stayed for weeks. He returned home this summer and has been recovering from injuries to his brain.
Then, on June 23, her son Sam Hedemark was killed in an oil tank explosion near Chapman Reservoir. The explosion occurred during a party attended by about 20 people in the Routt National Forest. According to witnesses and law enforcement officials, Hedemark and fellow teen Chris Fuller were on top of an oil tank on Forest Service Road 949, southwest of Phippsburg in Rio Blanco County, when oil vapors released through a valve caught fire and ignited 160 barrels of oil.
On April 13, 1996, 19-year-old Eric Johnson, Foos' oldest son, was killed in a hit-and-run car accident on Interstate 25 near Denver.
A fund for Kathleen Foos has been set up at First National Bank of the Rockies in Oak Creek. Donations can be sent in Foos' name to P.O. Box 68, Oak Creek, CO, 80467.