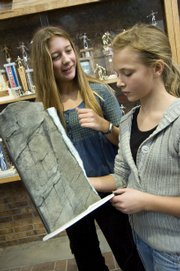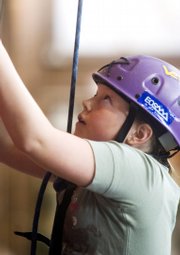 Steamboat Springs — Since Matt Tredway and a collection of his fellow Steamboat Springs Middle School teachers built the school's indoor rock climbing wall in 1994, with help from students, thousands of prospective alpinists have had their first taste of vertical accomplishment.
Wednesday was no different.
Tredway, who teaches math and science, and seventh-grade resource teacher Brad Weber had a group of sixth-graders out for their quarterly shot at the wall, each waiting his or her turn to go on belay.
"I like pushing back off the wall - it feels like you're flying on the rappel," Marley Loomis said after her climb. "I think climbing on rock is more fun because it's more realistic, but this is bigger than what we'd do outside."
The sixth-graders will have to wait a year or two to put their climbing skills to use on bigger trips, organized by Everything Outdoors Steamboat - the middle school's outdoor education program, spearheaded by Tredway and mostly funded from the program's annual tree sale. But the students become ecstatic when they see Tredway's plans for an improved wall in the middle school.
"I can't wait until we get the real one," said Sara Stout, having tackled the wall's hardest route and holding the model of the new structure.
The current wall - constructed of 5/8-inch plywood with modular holds screwed to it - is beginning to show signs of the thousands of users it has seen in its 13-year tenure. More than 30 feet high, the wall that greets visitors just inside the school's north entrance has eight top-rope anchor points for three basic routes up.
The upgrade, however, would cater far beyond the basic.
"On the new wall, the overhung section would come way out, with a little dihedral corner crack, two to three face cracks and solution pockets and nuances on the far side to use dry tools on," Tredway said.
The teacher excitedly talked about options the new wall would open for everyone from Routt County Search and Rescue, who could use it for training, to possibly the local climbing community, to help offset costs.
But the real impetus for the upgrade comes back to Tredway's students.
"They can learn to crack climb and or use a variety of techniques you couldn't do on this," he said. "There will still be a few modular holds in place for that feel-good 'trade route' everyone can do, as well as a couple tough ones, like a terrifying, overhung 5.13 route to push the best Steamboat climbers."
The new wall would be a much closer approximation of a true rock surface, finished with a spray-on gunite mortar with the aid of Integrated Solutions. That company used the same material to design the large "climbing pinnacle" in the REI Denver store.
In the same location as the existent climbing wall, but over the February "Blues Break" display, Tredway plans to gut the old wood and install the steel skeletal backing for a series of 20 feet wide, 4 feet high blocks of malleable foam to be sculpted to shape and then sprayed with the gunite.
While the original wall costs more than $5,000, the new molded edifice has a $40,000 price tag - about half of which, Tredway said, will be covered by the annual tree sale funds.
The middle school has plenty of helping hands, including volunteers, teachers, friends and students such as those in Tracy Stoddard's gifted and talented class, who helped build the Everything Outdoors Steamboat Web site. But Tredway still is looking for fundraising support and donations, which are routed through the Yampa Valley Community Foundation. Visit the "Donate to EOS" tab on the newly redesigned Web site at www.eosteamboat.org.