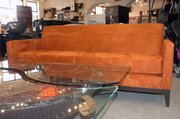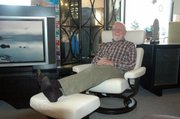 Steamboat Springs — Shoppers stopping by Pilot Office Outfitters can now buy everything from staples to contemporary sofas in one location, as owner Tom Ptach is now using two-thirds of his floor space to sell high-end home furnishings in his newest venture, RoCo eNteriors.
When Ptach bought Pilot Office Outfitters 10 years ago, it primarily sold business supplies and machinery. Ptach brought in office furniture, which throughout time steadily grew into a very strong aspect of his business and directly led to him adding home furnishings down the line.
"There was an opportunity in town, especially with all the urban-type construction, to offer contemporary furnishings for a home environment," Ptach said. "Most homeowners in Steamboat are affluent, so we went high-end to meet their demands for style and quality."
Customers can outfit their homes from top to bottom, with offerings ranging from area rugs to chandeliers. RoCo eNteriors aims to have a sampling from each of its manufacturers on display on the floor to showcase what types of products are available, though a large portion of its business is expected to be to-order, Ptach said.
Ptach decided to bring the idea to fruition after his friends redecorated their home in a contemporary style and found themselves having to special order most of their furnishings from Australia. They were lamenting not being able to see the pieces in person, Ptach said.
RoCo eNteriors went with a contemporary twist to provide something different than other design options in town, specifically the western motif, sales and design associate Barbara McNary said.
Other resort markets "a few years ahead" of Steamboat are moving away from the western style to a "more metropolitan taste," Ptach said.
Through creative merchandising and careful inventorying, Pilot Office Outfitters downsized its retail footprint to about 30 percent of Ptach's square footage without sacrificing any of its offerings. The retail business is all about sales per square foot - and office supplies don't even compare to the profitability of home furnishings, Ptach said.
The deliberate misspelling in the name RoCo eNteriors was chosen to highlight the store's commitment to being a green business. The store selected products made with minimal waste, from recycled and recyclable materials, and with environmentally friendly finishes, Ptach said.
Being as environmentally friendly as possible was a concept carried over from Pilot Office Outfitters, where the desk chairs are made of recycled plastics.
It used to be much more expensive to "go green," both for the business and the consumer, but as more people become concerned with global warming, demand for environmentally friendly products has gone up, as have supply and selection, McNary said.
From cabinetry to cuisine
The Design Center of Steamboat aims to bring both furniture and fine dining to its high-end clientele.
The Design Center, scheduled to open downtown in early 2008, will be a one-stop shop for owners of multi-million dollar homes, showcasing furniture, appliances, flooring, cabinetry, electronics, plumbing and other fixtures from a variety of established businesses. Many of the vendors will be based in the Yampa Valley.
"All these different vendors all want to get together and create this satellite location," Michael Buccino said. Buccino, owner of Steamboat Interiors and Cabin Collections, will be the general manager of the furniture side of the Design Center when it opens early next year.
"The energy in this place is just going to be dynamic," he said.
Buccino envisions the Design Center as a showcase for high-end home products, where homeowners can outfit their residence from top to bottom - and enjoy a fireside catered lunch while they examine carpet swatches.
"Mr. Jones can meet with the television guy, while Mrs. Jones is picking out her fabrics," Buccino said.
The Design Center will be located on the corner of Lincoln Avenue and Third Street in the former Shell station, but only for the next 24 months, after which the building is scheduled to be demolished to make way for a hotel project by developer Jim Cook.
The vendors are looking into developing a larger, 12,000- to 15,000-square-foot permanent facility during their short-term lease downtown, with space for additional vendors and a full commercial kitchen and coffee bar.
- To contact Melinda Dudley, call 871-4203
or e-mail mdudley@steamboatpilot.com