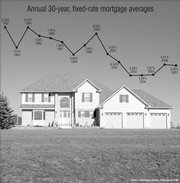 Steamboat Springs — With mortgage rates hovering around a two-year low, local lenders have been busy locking in low rates for their customers.
The average 30-year, fixed-rate mortgage last week was 5.96 percent, according to a survey by Freddie Mac, a stockholder-owned corporation established by Congress in 1970 to support homeownership and rental housing. It was the lowest rate since the week ending Sept. 29, 2005, when it averaged 5.91 percent.
"Right now, it's a real opportune time for second-home buyers or people looking to move here," said Chad James of Homebuyers Mortgage of Steamboat Springs.
It also has been the time for many to refinance, especially those whose rates were about to skyrocket because of adjustable rate mortgages, or ARMS.
"People who have ARMS from 2004 or 2005 that are going to adjust from say 5 to 8 percent have a good opportunity to refinance," James said.
Getting locked into a new rate that is just a quarter percent lower could mean savings for some people.
James said he recently helped a client who is paying off a $420,000 30-year, fixed-rate mortgage. The interest rate was locked in at 6.25 percent. After refinancing, the new rate will be 5.625 percent.
James said his client's payment will go from $2,751 to $2,479, a savings of $272 a month.
"Sometimes, all it takes is a quarter or an eighth (of a percent)," said Kathryn Pedersen, mortgage officer at First National Bank of Steamboat Springs.
But, she said a lower interest rate does not always mean it is worth restructuring a loan or refinancing.
"Sometimes it does, and sometimes it doesn't," Pedersen said. "Really, the best thing they can do is call a qualified professional who can run the different scenarios. Come in and we can go through what you're in."
All it takes is a productive phone conversation or an hour-long meeting with a mortgage professional, she said.
Another group of people taking advantage of the low rates are those looking to purchase their first home.
"We deal with a lot of first-time homebuyers," Pedersen said.
Generally speaking, lower interest rates mean people can qualify for a larger loan.
"Enough of a dip can get people into a place," Pedersen said.
What mortgage interest rates will do in the future is always the big question when people are considering refinancing.
On Tuesday, the Federal Reserve is expected to cut interest rates by a quarter- or even a half-percent.
This speculation has somewhat fueled the lower rates, but a rate cut does not necessarily translate into lower mortgage interest rates.
"U.S. nonfarm productivity jumped by an annual rate of 6.3 percent in the third quarter, the most since 2003, while labor costs fell 2 percent," Frank Nothaft, Freddie Mac vice president and chief economist, said in a news release. "Greater efficiencies and lower costs ease pressures for companies to raise prices and offer the Federal Reserve (Fed) more leeway to reduce short-term rates. Currently, the federal funds futures market has almost a 100 percent probability that the Fed will lower rates in its December 11th policy committee meeting. These combined factors will likely diminish upward pressures on mortgage rates over the next few months."