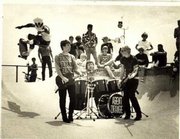 Past Event
Thursday, December 6, 2007, 6:30 p.m.
Steamboat Mountain Theater, Steamboat Springs
Not available / $15
The Plagiarists and Amputators on Agent Orange
"I think it's safe to say we have all been listening to Agent Orange for a long time.
When we got together last February and jammed for the first time, we thought learning a cover song might be a good way to break the ice. We started noodling around with 'Bloodstains' and within no time we could play it all the way through.
The song had been ingrained in us, it's a punk rock standard - if you are into that kind of music then you can't help but sing along when it comes on.
We feel extremely honored and privileged to be sharing a stage with a legendary band like Agent Orange. Steamboat is going to get its buttocks rocked off, and we're stoked to be a part of it."
- Keith Thibodeau, Amputators, vocals and guitar
"I started listening to Agent Orange in 1983 when my friend and I got a hold of a Vision Streetwear (skate) video and Agent Orange was on the sound track. I have been a huge fan ever since that day. Super excited to be playing with them - they got me through high school."
- Doug Mouton, The Plagiarists, drums
"We are very excited to play with these guys! They are living legends in the punk rock world.
I think the first time I ever heard them was here in Steamboat back in '94 : a couple of my old roommates were pretty into them, and I immediately loved their surf rock twist and sound.
The few CDs I had of theirs slowly disappeared over the years and I kind of forgot about them - thought they broke up."
- Issac Slobodnik, The Plagiarists, guitar
Steamboat Springs — It's not easy to get Agent Orange frontman/guitarist Mike Palm on the phone.
That's probably because his band - which, starting in the late 1970s, forged surf riffs with punk grit and hardcore lines to help define the emerging West Coast sound - has been on tour close to nonstop for the past year, playing the songs that have given them near legendary status in their circle.
The band decided to play as many venues that it hadn't played before as it could, which has led to shows across the country, including a stop Thursday at the Steamboat Mountain Theater.
Palm spoke with 4 Points about what drew him to alternative music, how the crowds have changed (they haven't, at least not much) since the band's biggest albums in the '80s, and why anything more than three chords and a fight is too much.
4 POINTS: Are you guys on tour now?
MIKE PALM: We're on tour constantly. We had one day off between northern California and the leg we're starting now, which is New Mexico, Arizona, Colorado, Vegas - it's a just a little short one now, just to finish up the year.
This has been the busiest year for the band.
4 POINTS: What about the years in the '80s when you had records coming out?
MP: Ever. It's been the busiest year ever. You'd think back when we had new releases and everything it'd be bigger.
4 POINTS: Has anything changed with the kinds of crowds you see at shows since you guys first started playing out? Do people react differently?
MP: The thing about it is that alternative music, and punk rock especially, was such a new thing and untested, people just didn't know what to expect. And the way it was portrayed in the media, the whole element of danger thing was a lot more prevalent, and now everyone knows that unless you're in a mosh pit and get hit, you're not going to get hurt.
Now it's an accepted musical genre, and once it's accepted it creates a whole new set of opportunities for it - touring like this would not have been possible when we very first started out, because there were so many places where we just trying to feel it out.
4 POINTS: Were there ever times when it just didn't go over well?
MP: For the most part it was more a matter of being with a small audience. There were a couple of situations - one time we got hired to play a private school function, and it was one of those things where a couple of people in power were really excited about it, and then most of the people at the dance or whatever just stood there. I think they were hoping for a cover band.
4 POINTS: What were you listening to when you came up with this sound, this mix of punk rock and surf music and everything else that was in there?
MP: The punk stuff was pretty fresh right then, so the stuff that was coming out of New York and London and those first L.A. punk bands had a huge impact on us.
And then sort of pre-punk, we were always listening to outside music - anything as far away from mainstream as possible, which was not a lot at that time.
Also, not just with Agent Orange, I think this is true with the punk community as a whole, I think punk rockers have always embraced 1950s and 1960s garage rock, and rootsy music.
4 POINTS: Why is that?
MP: It's the same kind of thing - it's really honest and straightforward, and it's not pretentious. Early doo wop, all that stuff. It's basically just the Ramones without Marshall Stash.
When the surf music phase hit California, every kid wanted to play in a surf band. And it wasn't like you had to be super technically proficient to pull that off. It created a whole generation of garage bands, and all that was more about the music.
4 POINTS: And punk rock is the same kind of deal.
MP: You play two chords, three chords at the most. You never know what you're going to come up with, too, especially if you bring in someone with no musical knowledge.
4 POINTS: Did you come in to punk with musical knowledge?
MP: A little, but not too much to hurt. I lifted that last quote from Louis Prima.
I did take some private guitar lessons, and I think I took a week of lessons at a music store. I learned the basics from my older brother, and I really ended up never having much time to go beyond that. I learned what I needed to learn.
If you can pick things apart and learn to play by ear, being self-taught really isn't that much of a reach.