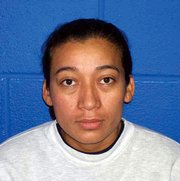 Steamboat Springs — The District Attorney's Office will not offer a plea bargain in Luz Cisneros' murder case, and the matter will proceed to trial, Assistant District Attorney Kerry St. James said Wednesday in Routt County Court.
Cisneros stands accused of first-degree murder in the Sept. 6 death of her 1-year-old daughter, Brianna Simon, at their Walton Pond apartment. Cisneros could face life in prison or the death penalty if convicted.
Cisneros participated by telephone from the Colorado Mental Health Institute in Pueblo for Wednesday's status conference. Cisneros has yet to enter a plea and has remained in custody since her arrest in September.
The state has "substantial and significant evidence of guilt" and will not be offering Cisneros a plea agreement, St. James said.
St. James and Cisneros' public defender, Sheryl Uhlmann, told Judge James Garrecht they were ready to proceed toward a trial.
At Cisneros' last court appearance Oct. 31, her attorneys were granted a continuance to allow time for additional discovery, as the final autopsy report was still pending.
Cisneros is due in court for a preliminary hearing at 8:30 a.m. Dec. 21, when her trial date likely will be set.
Cisneros was arrested the same day of the alleged murder. According to sworn police affidavits, Cisneros' longtime boyfriend called 911 the morning of Sept. 6 to report that Cisneros was holding a knife to their daughter's neck and stomach. Cisneros told her boyfriend she broke his cell phone and hid her phone, prompting him to leave their apartment to go to a neighbor's home to call for help, according to the affidavits.
The boyfriend, Isaias Simon, told police the door to their apartment was locked when he returned. Officers who responded to the 911 call forced their way inside the apartment, where they say they saw Cisneros come down the stairs holding her injured daughter in her arms. One of the officers said he saw a laceration on the neck of Cisneros and her daughter.
The girl was taken to Yampa Valley Medical Center, where she was pronounced dead. A preliminary autopsy report indicated the girl, Brianna Simon, died from a "total transection of the left jugular vein" due to an "incised wound to the neck."
Cisneros also was taken to the hospital to be treated for her injuries. She was booked into Routt County Jail later that evening on charges of first-degree murder.
- To reach Melinda Dudley, call 871-4203
or e-mail mdudley@steamboatpilot.com