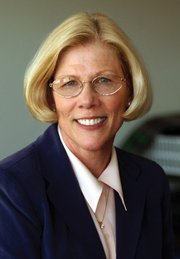 Steamboat Springs — The board of directors for the Yampa Valley Housing Authority has chosen former Steamboat Springs School District Superintendent Donna Howell to lead the organization.
The board chose Howell over the other finalist for the job, Curtis Church, a Housing Authority project manager who has served as its interim executive director since Elizabeth Black resigned from the post in June.
"I believe the reason we selected Donna was because of her broad background in administration and management and her understanding of the financial issues of governmental entities," said Nancy Stahoviak, a Routt County commissioner and Housing Authority board member.
Mary Alice Page-Allen, Housing Authority board president, added that Howell's knowledge of the community and "the scope of her abilities" are strengths.
"She's plugged into the community," Page-Allen said. "She's worked with a lot of folks. She brings a well-rounded organizational management skill set to the Housing Authority."
During interviews, Stahoviak said Church was asked whether he would stay with the Housing Authority if he wasn't chosen for the executive director position, and he said he would.
"We all really value Curtis Church and all the work he's done for the Housing Authority and will continue to do for the Housing Authority," Stahoviak said. "He will benefit from the things Donna can teach him."
Page-Allen agreed.
"He is a very valuable member of our organization," she said. "In my mind, it takes both of them to make our organization better."
Howell will begin as executive director in January. She was traveling Wednesday and not available for comment. As a finalist for the position last month, Howell acknowledged that the job would be different from her last one, but she said the positions require a similar skill set.
"I feel strongly that I want to make a contribution to the community, and I am acutely aware of the housing issue from my previous position," Howell said at the time. "Throughout my career I have purchased property. I have built schools. I've had experience in terms of building projects and financing them. But I haven't done it every day."
Church did not return messages left on his cell phone and at his office.
Stahoviak and Page-Allen said one of Howell's first priorities would be public outreach, particularly to the city of Steamboat Springs.
"We need to definitely work with the city of Steamboat Springs," Page-Allen said. "They're a leader on affordable housing issues in our community."
The Steamboat Springs School Board bought out Howell's contract earlier this year, citing a "contentious" working relationship with the superintendent. While the Housing Authority board discussed the terms of Howell's departure from the school district, Stahoviak said there was not a concern.
"I think there are times when individuals for one reason or another have conflicts and don't fit," said Stahoviak, who called the executive director position "a wonderful challenge" for Howell. "She's very well qualified for the position."
- To reach Brandon Gee, call 871-4210
or e-mail bgee@steamboatpilot.com