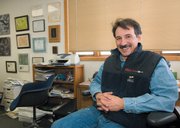 Steamboat Springs — Gov. Bill Ritter has named George Krawzoff to the Colorado Transportation Commission, an appointment that led the Steamboat Springs transportation director to announce he will be leaving his job with the city. In a related move, the city's Transportation Department will be moved under the Public Works Department and its new director, Philo Shelton.
Krawzoff said he hopes to stay on with the city until February or March. Shelton, who is leaving a job as the public works director in Black Hawk, starts Monday. Current Public Works Director Jim Weber is being moved to a project manager position.
"After working with Jim for a year, I felt he was more comfortable as a project manager, and that's where his strength is," City Manager Alan Lanning said. "Jim graciously agreed to that."
Weber, who has worked for the city for 10 years, said the move is "good for the city," but otherwise directed all questions to Lanning.
The Colorado Transportation Commission establishes policies and priorities for the Colorado Department of Transportation. Krawzoff was one of six appointments to the 11-member commission announced last week.
Krawzoff said a conflict of interest prevents him from accepting the appointment and continuing as Steamboat's transportation director. The city receives grants from CDOT, whose funding is allocated by the Transportation Commission. Krawzoff said he will miss the job.
"It's kind of crazy," Krawzoff said. "I'm giving up a good, solid job in a place I love to take a volunteer position at the governor's request."
Nonetheless, Krawzoff said the opportunity to influence transportation decisions on a larger scale was too appealing to pass up. He called the appointment the culmination of a career in the field, which started when he was a bus driver in Boulder.
"It's a great honor to be called, and I'm really looking forward to having an influence and learning a lot," Krawzoff said.
Krawzoff said he hopes to bring a mass transit and multi-modal mindset to the commission, and County Commissioner Diane Mitsch Bush, a member of CDOT's Northwest Transportation Planning Region, said Krawzoff will be "excellent" at doing just that.
"He's seen transportation from every aspect of decision making," she said.
Although he's leaving his city position, Krawzoff said he will continue to live in Steamboat and that he hopes to start doing private consulting work. Lanning said Krawzoff would be missed but that Shelton's simultaneous hiring would mitigate the loss.
"It's always hard to lose that experience and expertise," Lanning said. "But we think we've planned appropriately."
With Krawzoff's departure, Lanning plans to move the Transportation Department under the Public Works Department and Shelton. In hiring Shelton, Lanning said he was looking for someone with additional expertise and someone who is "more willing and more comfortable to be in the public light." Lanning said two areas of expertise that stand out for Shelton are transit and water rights.
Shelton said he looks forward to starting next week, learning about the community and developing goals.
"It's a good opportunity for a job as well as for my family," he said. "I'm just looking for a good change, and it's a good community to work for."
Shelton's hiring is the latest in a series of staffing maneuvers initiated by Lanning after his first year on the job. Former Finance Director Don Taylor was let go earlier this year. Lanning said a new finance director is being recruited. Assistant Finance Director Bob Litzau is serving as director in the interim. The city also is looking for a new information technology manager after the resignation of Kent Morrison. In department leaders, Lanning said he is looking for the right "fit" for the city's administration and his management style.
"I'm looking for philosophies that are closely in tune with mine," said Lanning, "but also strong team players, strong communicators and folks who are excellent at dealing with the public."