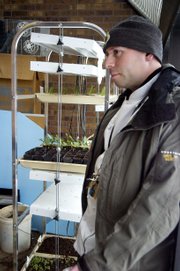 Steamboat Springs — Steamboat Springs Middle School Principal Tim Bishop was sitting in his office about three weeks ago when he saw something strange through his window.
"I saw (Director of Food Services) Max Huppert come in here one day pushing a cart full of dirt down the middle of the arcade, and I'm like, 'What are you doing with this dirt?'" he said. "He just said he had an idea, and so he brings me into the school's greenhouse two weeks later, and there are these pots sprouting green."
Pumpkins, green beans, lettuce, tomatoes and onion sprouts are now growing from dozens of pots in the school's small greenhouse, which is about the size of the bed of a pickup.
Huppert said he created the small biosphere with seventh-grade teacher Lisa Lorenz and a few volunteers with the goal of teaching students about nutrition and where their food comes from. It's a concept he calls "farm to fork."
"We hope to get to a point where we are growing a lot of our own produce and having it year-round so they are still getting fresh things in the lunchrooms in January and February," he said. "I don't know how much money it will actually save us, if any, but it's just to give the kids some fresh things. And if it does save us some money, it would be great."
Lorenz plans to incorporate the greenhouse, which is connected to the back of her classroom, in her lesson plans.
"We are starting our plant unit next week and we have been having some discussions about having the kids grow their own raw meal," she said. "We will have a nutritionist come in and talk about nutrition and raw foods. Kids will plan a meal and grow it from seedlings and then learn about plant structure and organisms."
Students don't participate in the upkeep of the greenhouse, but Lorenz hopes to have children working the greenhouse full-time if the pilot program is successful.
"Hopefully, they will take on much of the work so Max doesn't have to anymore," she said.
Pots, soil and seeds
Bishop is excited that Huppert and Lorenz took the initiative in utilizing the greenhouse, which is one of two on the middle school campus. The other greenhouse is being used for storage, but Huppert hopes to expand the food-growing program next summer into the second one.
"I'm a little worried we don't have all the things we need - like the heaters aren't set up, and other equipment," said Bishop, who noted more pots, seeds, soil and some help from an electrician to fix the greenhouse's ventilation system are needed.
Steamboat's Windemere Landscape and Garden Center donated much of the supplies needed to get the greenhouse up and running.
Bishop said the greenhouses were built more than 10 years ago when two enterprising teachers took it upon themselves to expand science lessons into something children could see with their own eyes.
"We had some teachers that were really interested in teaching kids horticulture and life cycles, and they grew a lot of plants in there," he said. "Those were teachers that were really committed to that, so when they retired, new teachers came in who were not as committed, and things slowly ended in there."
The greenhouse is part of Huppert's larger effort in making the Steamboat Springs School District's food services program more environmentally friendly.
In September, Huppert replaced the schools' plastic cutlery and Styrofoam trays with biodegradable products. He has also stressed a desire to buy more locally raised meat.
"It's a really big thing at the colleges - dealing with local produce companies and bringing them straight from the local farms," said Huppert, who also is the executive chef at Steamboat's Colorado Mountain College campus.
"It's not only more healthy because you know where it is coming from, but you are not spending money on gas and transportation, and that is a huge deal," he said. "It saves the environment and it saves us some money, too."
- To reach Mike McCollum, call 871-4208
or e-mail mmccollum@steamboatpilot.com