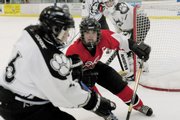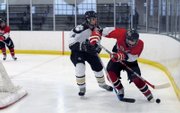 Steamboat Springs — The Steamboat Springs High School hockey team improved with each period it played in this weekend's King of the Mountains tournament.
But when a team as young as Steamboat has two games in one day against powerhouse teams such as Battle Mountain and Aspen, that progression doesn't always catch up with the talent on the ice.
Steamboat dropped both games Saturday - 3-1 to Battle Mountain and 4-0 to Aspen - to finish the tournament without a win. The Sailors had won the tournament the previous two years.
Despite the loss, Steamboat coach Jeff Ruff came away from the tournament optimistic about the potential of his green team as it progresses into the season.
"Coming in, we had one defensive player that had played a high school hockey game," Ruff said. "With that youth, we learned a lot and did very well considering the caliber of teams we were playing."
In the first game, Battle Mountain scored three goals in the first period. But as was the case, Steamboat's defense improved, shutting Battle Mountain out the final two periods.
Jake Bearss scored for Steamboat with an assist from Cody Fritz. Matt Dawes made 25 saves in the game for Steamboat.
In the second game, against defending state champion Aspen, Steamboat again struggled with penalties.
The Sailors were shorthanded nine times, including several 5-on-3 situations. Because Steamboat was often on the penalty kill, the team managed only 11 shots in the game.
Still, Ruff came away from the Aspen game feeling good about the direction his team is heading.
"We have a team that's hungry to achieve and hungry to make those adjustments," Ruff said. "We have to be able to compete with these teams. I felt we competed with them, but we didn't compete at the level where we could win."
Steamboat plays Kent Denver at 3 p.m. Saturday at Howelsen Ice Arena.