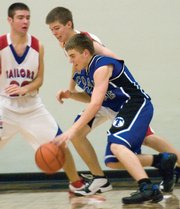 Carbondale — The Coal Ridge High School boys basketball team learned the hard way that giving Steamboat Springs open looks from beyond the 3-point arc is not a recipe for success.
The Sailors drained 10 triples in 22 tries Saturday, running away with a 62-47 win against the Titans in the teams' second-round Brenda Patch Tournament showdown.
What made the perimeter shooting clinic sweeter was that the 3-point barrage saw eight different players connect. Aaron Calkins and Nelson Brassell paced the sharp-shooting charge with two 3s apiece.
"We can take it inside to the paint, too," Steamboat senior Connor Moore said, "but pretty much every player on this team can hit from 3."
Moore finished with a team-high 10 points to help comprise a balanced Sailors scoring attack. Isiah Forsyth added nine points, Blake Weinstein and Colby Kostur chipped in eight, and Brassell and Alex Wood each had seven.
After losing to tournament host Roaring Fork, 57-49, on Friday, Steamboat (1-1) seemed extra motivated to leave Carbondale with a win and prove its No. 3 ranking by RockyPreps in Class 4A is no fluke.
Coach Kelly Meek was much more fond of the Sailors team that showed up Saturday.
"Well, we really settled way too much for the 3-ball last night," he said. "We had a lot of open looks, but we just didn't get it to go down. At the same time, we didn't penetrate."
At least for a day, those problems were solved. The Sailors are off until Thursday with the start of their own Steamboat Shootout.
Steamboat, up 10-7 after the first quarter, began to pull away from the Titans (1-1) in the second quarter, putting up 18 points and four 3-pointers to take a 28-20 lead into the break.
The Sailors really blew the game open in the third, outscoring Coal Ridge 19-5 to build a 22-point lead.
Led by 11 fourth-quarter points by Skyler James, the Titans chipped away at that lead before running out of time. James paced his team with game-best 19 points on 9-of-15 shooting. Blake Todd and Andy Smedra added six points apiece for the Titans, who next take on Plateau Valley at home Friday.
"We just didn't play very well until the last three minutes or so," Coal Ridge coach Mike Cox said. "The hard part is that my guys didn't perform. We lost our cool coming out in the second half. We didn't play our game."
Foul trouble plagued the Titans all afternoon, and Steamboat capitalized, going 16-for-25 from the foul line. Cox wasn't pleased with how his team responded.
"It all comes back to our attitude," he said. "We took a step back. We're going to fix that this week."